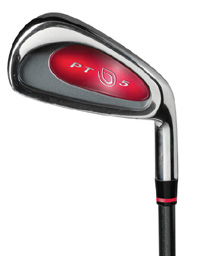 Bullet PT5 iron
Price: £345 (steel), £395 (lite graphite), £495 (pro graphite)
The Bullet Golf brand has stuck in my memory for several years – not so much its equipment but the scantily clad babes they used to attract visitors to its fleeting appearance at a trade show stand at the NEC in the late 1990s.
Sadly though, while its robust, wheeled travel covers have remained in the UK's public eye and consciousness, its hardwear has been restricted to popular demand on the continent.
However, with the encouragement of the Team Frith marketing outpost in Louth, Lincolnshire, the brand is making a comeback with some solid products, capable of catching a piece of the 'mid-range price' market.
I've had a handful of clubs on test for a couple of weeks and found the TP5 irons, with distinctive scarlet heads and shafts, very playable.
I discovered there's about a club difference (in distance) between the steel and graphite shaft options, but the regular steel makes up for its 5-10 yard lack of comparable distance, with its forgiveness.
The head is typically perimeter weighted – similar in style to the Titleist DCI – and delivers a punchy, penetrating flight.
Verdict

At less than £350 for a set of nine steel-shafted irons (3-iron to sand wedge) these bullet clubs are ideal for the improving mid-to high handicapper.
Golfmagic rating: 8/10