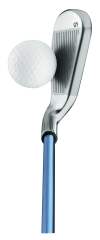 X-16's thick top line.
Price: £799 (graphite),£699 (steel)
I met Ely Callaway on several occasions before his death last year and always found him sincere about the clubs he inspired.
"If I wanted to make money I wouldn't be in golf," the former Californian wine-grower once told me. "I wanted to make golf clubs people can enjoying hitting and can have fun with."
It was a great philosophy which he seemed to impregnate into his dedicated staff as the father figure – alongside Ping's Karsten Solheim - of modern golf technology.
Like most of its rivals the Callaway Corporation, under the guidance of master engineer Richard Helmstetter, has produced a variety of irons to suit a wide range of abilities with the X-16 Steelheads the latest offering.
I've also been testing Mizuno MP-30s and Hogan Apex Edge Pro's in recent weeks, great feeling clubs when struck in the centre of the club face, but they can sting your fingers with mishits.
With the X16s –despite being cast heads, you get the same sweet feeling with well struck shots but the off-centre strikes are more forgiving.
The long irons are probably the easiest to hit 3- and 4- irons I've played in 30 years which allows me to discover there's more to 170-200 yards shots than merely reaching for my 7-wood.
My only problem with the X-16s is that they're more ugly than a pot-bellied pig, more cumbersome-looking than a Sumo wrestler.
The first time I reached for the pitching wedge for my appraoch to our opening hole at my local course my initial reaction was 'Urgh!'. With its thick top edge and rounded sole it reminded me of a steel toe cap, accentuated by the offset in the hozel. No wonder I duffed the shot!
However, as the initial round progressed I came to appreciate the effort that Callaway had put in to these clubs to make them more forgiving, the System CW75 regular flex graphite shaft helping to dampen the vibration from the occasional shot thinned from the leading edge.
After five rounds using the clubs – including two competitive – I can conclude the X-16 are not quite right for me but will inevitably suit those who prefer an offset club to get the ball airborne.
Using Callaway's latest 'Notch' weighting system, these clubs delivered the ball to a higher trajectory than I am used to. Granted, it can prove confidence-inspiring to some, but as a low-ball hitter I prefer the punchy low trajectory I have learned to work and control.
These clubs are not to be confused with the X-16 Pro Series, targeted at a more skilled player, in which Callaway have introduced a more blade-like design, with less offset, thinner top lines and narrower soles. These clubs have a straighter leading edge, which Callaway says "presents a lean, compact design for golfers seeking greater feel and control" and are the ones used by Kenneth Ferry to win the Spanish Open in Tenerife last week.
Both the regular X-16 model and the Pro Series are available with 1- through 9-irons, plus pitching, approach, sand and lob wedges. The regular X-16s have a soft satin finish with a contrasting, sandblasted hitting area, along with a choice of graphite shafts tailored for men and women, and steel shafts. The Pro Series irons have a distinctive smoked finish.
Verdict

With a price tag around £800 with graphite shafts (you can almost certainly get them for less if you shop around) they are well made and come with a good pedigree and reputation. Their value will depreciate but they will give you at least two years of solid fun and enjoyment – just as Ely Callaway predicted – before they are superceded by the next generation of technology and 'spin.'
Golfmagic rating: 8/10