Wilson Deep Red Irons
Price: £499 steel – 3-SW, £599 graphite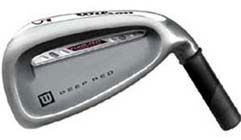 Deep Red irons.





I've always had a close affinity to Wilson irons. Their Sam Snead Blue Ridge were the first new clubs I ever bought – more than 30 years ago – and mainly because I could buy them individually to build up my first motley set.

I bought a 3-, 5- and 7-iron several months apart and they set me on a golfing adventure that is still going strong. Three years ago I obtained a set of the original Wilson Fat Shafts, playing out of my boots with them while partnering Ian Botham on a press day around The Belfry and am currently playing better than ever.

Wilson has now sent along a new set of its latest model of Deep Red Fat Shaft irons for me to try to see how they compare in advance of their launch next month.

And I can report my first impressions are that they measured up well.

As is the trend with many game-improver clubs the top line looks chunkily similar to the Callaway X-14s but with a more rounded, attractive profile. Some prefer the thinner top line of some makes but to look down at address at the thick top edge somehow instils more confidence.

I'm no expert when it comes to long irons, preferring to use my trusty 7-wood for any shot needing more than a 5-iron but less than a 3-wood, but both the Deep Red 3- and 4-irons produced a solid high and penetrating flight I have never previously been able to generate.

Wilson says it's due to the weight being concentrated low and towards the back of the clubhead and certainly the 9% larger clubhead and consequent sweetspot helped the shots I didn't quite flush.

The 5- to 9-iron are comparable in performance to my current set and this is where Deep Red's 'Fluid Feel' shaft and eurethane insert in the clubhead, came into their own. Certainly their combined ability to absorb vibration made for a very solid feel off the clubface.

The thicker than ever fat shaft (10% fatter than my originals) claims to produce less torque (less twisting at impact) and this was particularly noticeable in the short irons where accuracy needs to be at a premium.

The optional Gap wedge, more loft than the sand wedge, less than the pitching wedge, for those tricky little pitches from around 50 yards and delicate flicks around the green, made an instant impact with me. Slightly heavier than my originals but much easier to handle, it instilled such a confidence that it felt as if I'd merely tossed the ball towards the flagstick, underarm…with a little bite, of course!

There's a £100 difference between the steel and graphite shafts in the Deep Red irons and while the new 535 Try-Play Graphite claims to offer greater distance through each club, I prefer the consistency of steel.

These are only my first impressions. I'll report back with a more long-term test in a few weeks.
Golfmagic rating: 8.5/10
Wilson Deep Red Fluid Feel Putter
Price: £79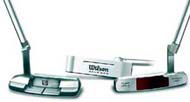 Deep Red range of putters.





I'm fickle when it comes to putters and in nearly 30 years I have never found anything to beat my cut-down (29-inch, Par One, Ping copy).

I took three inches off its shaft 10 years ago, fitted a jumbo grip and converted to a left-below-right putting style. It suits me fine and it's my benchmark for all the dozens of others putters I've tried when it falls briefly out of favour.

This new Wilson putter hasn't tempted me to discard my original, either. Despite its oversize square-faced, corded handle and similar heel-toe weighted head, it wasn't for me.

Even my playing partners noticed I looked less than comfortable, though its distinctive Fat Shaft and cherry red insert are designed to produce improved feel and performance. By modern innovative standards it looks 'the business' and may provide the answers to many golfers' putting problems.

For now, I'll keep looking.
Golfmagic rating: 7/10