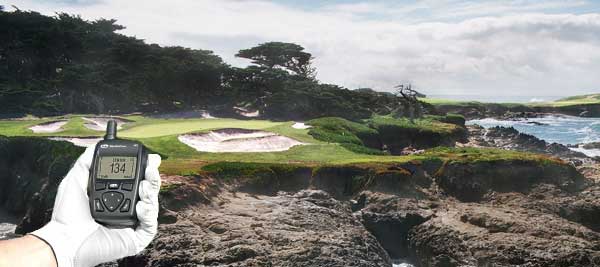 Cypress Point, California - you'd need GPS here we'd imagine!
The latest golf GPS devices provide all the benefits of caddie without the back-chat, saving you shots, time - and money!
FOLLOWING a timely revision of the Rules of Golf, digital distance measuring devices, including GPS systems and laser range-finders can now be used in most competitions under local rules. This significant change is set to revolutionise the way golfers, whether be pros in PGA-run events or humble handicappers like you and me plot their way around a golf course.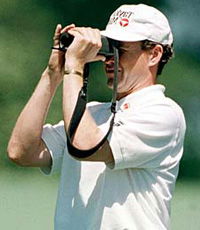 Tour players and their caddies often use Rangefinders during practice




For less than the price it would cost to hire a professional European Tour caddie for a day you can now buy a yardage calculator that will tell you exactly where you and your golf ball are on the planet and how far it is to the hole you're playing. No guesswork, no pacing, no need for a darts-player's skill in mental arithmetic. Such gadgets are vital to those of us who can't trust our eyes and and our distance judgment.

The latest generation of hand-held GPS handsets puts the Sat-Nav in your car in the shade. While the one on your dashboard is designed to pinpoint locations within 100 yards, these golf gadgets use at least four satellites spinning 11,000 miles above the earth to calculate distances within the length of your putter. Some even upload onto Wi-Fi enabled mobiles, saving on yet another piece of expensive technology.

If you're still not not impressed, consider the pace of play. When competitors in 2008 US Women's Club Professional Championship were each given a GPS unit to use, all three rounds were completed in less than five hours for the first time in the 20-year history of the event. Scores were lower, too.

Club golfers may not take so long toplay their own course, but in new territory these devices could be that vital 15th club in the bag.

Here's our guide to six GPS systems to keep you on the fairways this season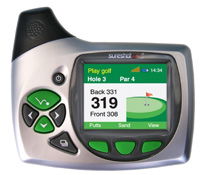 SureShot - stores key stats
SURESHOT 8800
Price: £199
Contact: www.motocaddy.com
Specifications: 4.5 ounces, 3.5 x 3.0 x 1.0 inches
Key Features: Full-colour screen, measures distances to greens and hazards within a tolerance of one yard from anywhere on the course in real time. A unique feature is the ability to measure key statistics such as driving distances, fairways hit, greens in regulation, sand saves and putts. A summary of the results can be uploaded to your laptop for further analysis.
Course mapping: Capable of holding up to 40 courses at one time, although there are currently 2,300 mapped layouts in the UK and 12,000 worldwide, all of which can be downloaded from the Sureshot website.
Membership costs: Three levels of annual membership, starting from £19.95 for 10 courses, up to £39.95 for 40 courses. The 8800 silver package, which comes as standard, allows three free downloads per year.
Battery Life: Rechargeable ion lithium battery will last 36 holes on a single charge.
Pros: Accuracy, statistical analysis - Cons: Limited course capacity, small 2-inch screen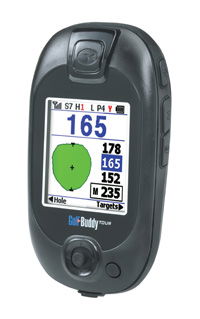 GolfBuddy: Course upload is free
GOLF BUDDY
Price: £299
Contact: www.gpsgolfbuddy.com
Specifications: 4.23 ounces; 4.25 x 2.25 x 1.0 inches
Key Features: Already a big seller in the US, GolfBuddy enters the European market with Pro and Tour models, the latter featuring a colour screen. Its large, easy-to-read screen shows distances to greens, bunkers, water hazards and lay-up points. Also features a dynamic green view which changes the shape of the green depending on your angle of approach. Customised target technology enables addition ofup to 11 of your own custom targets, including the exact location of the pin. Currently the only range-finder with courses (up to 20,000) pre-programmed into its memory,. Use it straight from the box.
Course Mapping: 20,000 courses already on the system (14,000 in the US) with 6,000 more added by the end of 2009 and as they are added, users can download them for free. Other features include automatic course and hole recognition, so when you switch on the unit it knows where you are without having to scroll through a menu. There's also no need to click onto the next hole. Shot measurement and score tracking also available.
Membership costs:
None.
Battery Life: Rechargeable lithium battery lasts up to 16 hours, with AAA battery backup.
Pros: Free courses, hole/course recognition - Cons: Needs time to build up UK course database.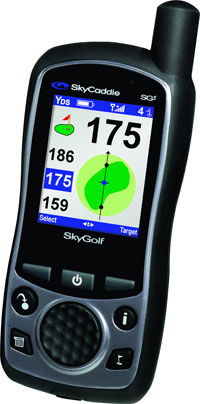 SkyCaddie: 95 per-cent UK coverage
SKYCADDIE SG5
Price: £299
Contact: www.skycaddiegps.co.uk
Specifications: 5.5 ounces; 5.4 x 2.2 x 1.0 inches
Key Features: Official rangefinder of the PGA of GB & Ireland, capable of 40 reference points per hole,. SkyGolf's IntelliGreen technology measures depth and shape of the green from any angle of approach - even from the wrong fairway - and shows distances for all targets and hazards. Full colour screen. Capable of storing 10 courses at a time.
Course Mapping: Unlike some models it doesn't rely on aerial photography from Google Earth. Yardages have been physically and accurately measured on foot by SkyCaddie's team of course mappers, who re-visit courses for updates as required. Claims to have 95% of courses in the UK mapped – along with thousands of other courses worldwide.
Membership costs: Annual membership starts at £29.95 for unlimited UK courses.
Battery Life: Up to 14 hours continuous use.
Pros: Accuracy of course mapping, Intelligreen - Cons: Limited course storage memory.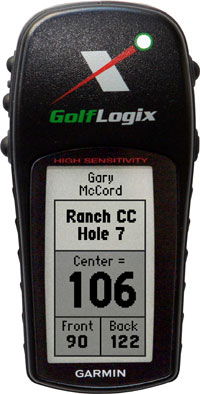 GolfLogix: Display is basic
GOLFLOGIX GPS-8
Price: £229.99
Contact: www.golflogixstore.co.uk
Specifications: 5.3 ounces; 4.4 x 2.0 x 1.2 inches
Key Features: Made by Garmin, a world leader in GPS technology. Offers distances to the front, centre and back of the green and up to six other points per hole. Includes ability to measure the distance of your last shot. Handset features a colour screen, while the screen features the largest-sized numbers of any unit on the market, for longer-range visibility.
Course Mapping:Its software analyses aerial images and satellite maps to produce yardages, which is not the most accurate system, but mappers review courses for errors before making them available and the system doesn't allow customers to map their own courses. Stores up to 20 courses at one time, with more than 22,000 worldwide to choose from (1,880 in the UK). Users can map their own course if it's not on the system.
Membership costs: Annual rates of $29.95 (around £22) for unlimited course downloads.
Battery Life: 22 hours. Runs on AA batteries, so if you carry enough spares it will go on for ever.
Pros: Big numbers on screen - Cons: Rather basic display; limited course capacity.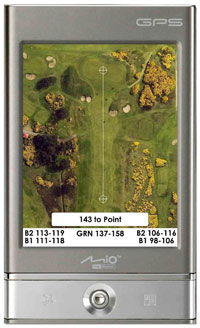 CaddyAid: Use via your mobile




CADDYAID

Price: £299

Contact: www.caddyaid.com/mobile

Specifications: Dependent on user's mobile phone

Key Features: Originally a GPS handset featuring aerial photographs of the actual holes rather than digital composites, so you could see exactly how the holes are laid out, which is particularly useful on blind shots and courses new to you. Offers distances to front, middle, back of green, as well yardages to hazards.

The handset, although still available to buy, has now been extended into a programme that is free to download to any PDA or Wi Fi enabled mobile phone. Phones without Wi Fi can be adapted with a Bluetooth receiver for an extra £39.99. Actual pictures have gone, replaced by digital images using the same measurements.

Course Mapping: Courses for the handset were mapped using a $1 million camera that took aerial shots of each hole, the pictures of which appear on the handset's screen. Good visual reference and extremely accurate.

Membership costs: Courses cost £9.99 each, £29.99 for a bundle of five or £9.99 a month for unlimited downloads on a minimum one-year contract (£119.88).

Pros: No handset outlay - Cons: Costly course downloads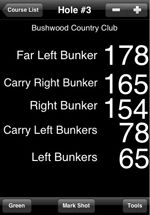 Greenfinder: Can upload on the first tee!
i-PHONE GREENFINDER
Cost: £20.99 (application only)
Contact: www.greenfindergps.com
Specifications: 4.7 ounces, 4.5 x 2.4 x 0.48 inches
Key Features: Available for use on an iPhone 3G and the latest Blackberry mobiles through iTunes, GreenFinder uses its built-in GPS to display the distance to the front, centre, back of greens and hazards along the fairway. The iPhone has a larger colour display (3.5cm diagonal) and higher resolution screen than any current golf-specific GPS model, although signal strengths can affect timings and overall precision.
Course Mapping: There are currently over 8,000 courses available, with users able to upload course even as they stand on the first tee, rather than having to hook up to a computer.
Battery Life: The application can drain a battery power in just four hours, so users might need to lock the screen in between shots in order to last a full round.
Pros: No need to buy a handset, wi-fi, large screen - Cons: Limited courses, short battery life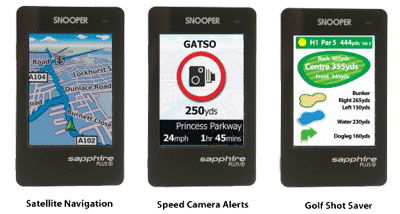 Snooper: Three gadgets in one




SNOOPER SAPPHIRE PLUS GOLF PRO Price: £199

Contact: www.snooperuk.com (0870 787 0700)

Specifications: 4.7 ounces, 4.5 x 2.4 x 0.48 inches

Key Features: Three gadgets in one, trebling up as a GPS system for the car and the golf course, with a built-in MP3 player. For golfers, it provides yardage measurements with distances to the front, back and middle of the green plus bunkers, fairways, streams, lakes and many other hazards, with an accuracy to two metres. Full-colour LCD touch display with 2D and 3D map views. Also comes loaded with Snooper's Enigma speed camera database, updated 24 hours a day.

Course mapping: Over 2,000 golf courses across the UK and Ireland mapped, with up to 100 courses able to be uploaded at any one time, free of charge.

Battery Life: Rechargeable battery offers up to five hours' battery time in golf GPS mode.

Pros: Helps user find the course as well as play it - Cons: Short battery life

And for those who like things simpler…

While handheld GPS systems are becoming increasingly popular, all that fiddling around with downloading courses off the internet with most models prevents them from being genuinely idiot-proof. Laserfinders are still proving popular choice for players who want a distance-measuring device that they can switch on and use without the need for wires, logging-on and new-fangled technology.

The only draw back - and it's a big one - is that if you can't see the flag you won't know how far away it is. So playing from behind trees, or with mounds in front will prevent accurate yardages being identified and a steady hand is needed to pin-point a flag from 240 yards out.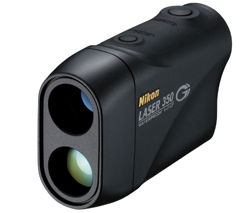 Nikon Lason Rangefinder: No downloads required
NIKON LASER RANGEFINDER
Price: 350G (£199), 550AS (£299)
Contact: 0800 230220 for stockists
Specifications: 7 ounces, 4.5 x 2.5 x 1.4-inches
Key Features: Depressing the power button provides 8-second continuous measurement. High-quality 6x monocular lens with multi-layer coating for bright images. First Target Priority mode enables easy measurement of the distance to the target (from 10 to 550 yards) even against a background of trees or buildings. The 550AS has the ability to measure horizontal, as well as linear distances, which means it takes into account the effects of changes in elevation on how far a shot will carry. For example, if the pin is elevated 20ft from your ball position, it will add the extra yardage to give a precise distance the user needs to hit it. Illegal for competition purposes, even if switched off, so the 350G, which does away with the horizontal help, is a better option for all-round use.
Pros: Measures distance to the flag, no extra costs - Cons: Not always possible to see flag!
SUMMARY

Ideally, I'd like to combine the unlimited free courses and massive memory offered by the GolfBuddy, the course mapping technology from SkyCaddie, the visual appeal of the CaddyAid, which provides real pictures of golf holes, the large, hi-res, touch-sensitive colour screen offered by the iPhone, and the in-car Sat Nav system (including turn-by-turn directions and speed camera detector) offered by the Snooper,. This would create the ultimate golfing GPS system.

The Nikon Laserfinder is the best bet when the satellite network goes down or for those who don't have access to the internet for all those course downloads and product support.

Before parting with your cash, ask yourself what you value most in a GPS system - the accuracy of mapping, cost (and number) of courses or ease of use. Choose the one which most your needs and your pocket.

Tell us on the forum: Have you bought a GPS system? How is it working for you? What are its strengths and weaknesses? How has it affected your game and have you used it in competitions? Also take the opportunity to review it on the Golfmagic.com review system for the chance to win one of the prizes we give away every month.