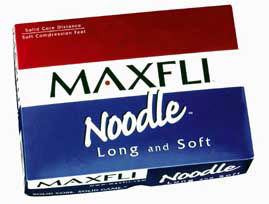 'Jubilee' coloured box!.
Maxfli Noodle golf balls
Price: £19.99 (per dozen)
Ask any golfer in the mid-to high handicap categories, what they want most from a golf ball and they'll tell you they want it to be cheap, but to fly long and straight have the feel of a more expensive ball around the green.
A tall order because the chances are you can have cheap and long and cheap and soft. But all three and straight, too? Miracles are reserved for the golf fiction books.
However, when the boffins at Maxfli set out on 'Project Noodle' to create a ball that was long and soft (like noodles, presumably) and to aim it at the 'popular end of the market' they were not deterred but cynics who claimed it couldn't be done.
We put the ball in the hands of several amateur golfers, as low as six handicap and as high as 22 and all agreed they liked the feel from the softer Surlyn cover and the low, 55 compression.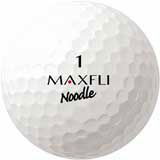 Softer and longer ball.





Most said they didn't sacrifice any distance because of its solid core construction, either. Indeed one or two claimed it had added 15-20 yards distance on their driving and was straighter, too.

"The ball seemed to give me extra carry and roll for ever," said one golfer, anxious to get his hands on more Noodles.

The major criticism, however, was control of the ball with approaches to greens.

There was a tendency to 'airmail' the green with approaches from 100 yards out and with low trajectory mid and long irons.

While for short pitches and chips it behaved as well as many balls which were more expensive, from distance it lacked their spin characteristics, though there was no lack of 'spin' in the manufacturers, promotional and marketing speak.

"It's a great ball for any level player, and it has an element of fun, something that is sometimes missing in golf products these days," said the blurb. Yeah right.

And it went on: "The red, white and blue packaging will also appeal to many UK golfers during this summer's Golden Jubilee celebrations."

Oh, come off it!

No doubt, The Duke of York (handicap 7) has been sent a couple of jubilee packs and will be reporting back on headed paper. Though, if we're honest, they're more suited to his young brother, the Earl of Wessex, still only a modest golfer and already able to produce as much 'spin' as he'll ever need on the golf course!
Verdict

At roughly £1.75 a ball, the Noodle is good value for the higher handicapper looking for extra distance off the tee and softer feel round the green. It will also fly higher than most balls which is a good confidence booster. But to make the most with your approaches take a club less than you normally would and play for the extra bounce.
Golfmagic rating: 7.5/10