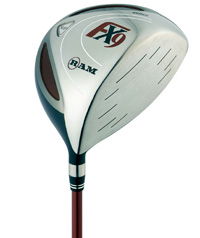 Ram FX9 driver
We're no longer surprised at the size of clubhead manufacturers are managing to fit at the end of a shaft. It used to be an eye-popping experience but now on first tees around the country maximum-sized heads are almost commonplace.
Two of the latest monsters clashed head-to-head in my bag recently and just about battered each other to a standstill like a pair of boxing heavyweights.
At the end of the contest there was almost nothing to choose between them – the heads were the same (460cc), the loft was the same (10.5), the price was the same (£99) and the regular flex graphite shafts were almost identical.
So let's look in a little more detail how they performed:
Ram FX9
As regular visitors to Golfmagic will discover, I'm not the highest hitter of a driver. With a homemade swing fashioned over years of fighting a slice, I prefer to drill my shots in low and let them run.
So to suddenly be confronted with a club that got the ball airborne in a heart beat was a weird experience and not one I'd choose to repeat too often.
With a climate that's producing rough that's getting thicker almost by the hour and a weather system that seems to be bringing wind from obscure parts of the compass, you need be able to control height as well as direction.
I didn't feel I was able to do this, especially when trying to deliver maximum velocity and extra distance.
As my golf colleague Tim Beard, who also tried the FX9 for a round, so succinctly pointed out: 'this driver is more cudgel than rapier'.
"The carbon graphite head looks so big at your feet that you are almost waiting for a 'clang' off the tee peg," he confirmed. "But it's still a swish with a 'click.' I struck it pretty well, although somewhat higher than my normal ball flight. "
Swing it with a little finesse and it will respond with the stability, control and balance the makers claim. Try to crush it past your mates and you can easily lose control of the True Temper Grafalloy shaft.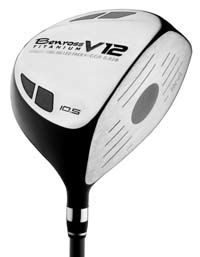 Benross V12 driver
Benross V12 Titanium
With its deep CNC precision-milled Titanium face, and centre spot and more-rounded black head this lives up to its billing as the powerhouse driver of the Benross family.
It's a slightly cheaper version of the popular V8 Compressor (£146) and less chunky-looking than the original V8 Hot Face.
The distinctive blue Grafalloy Pro 65 shaft is fitted as standard but was a little too whippy, even for my taste. The need to swing the club more slowly, delivered better tempo but it lacked the crunch I like to generate just before impact.
Flight pattern was lower than the FX9 yet difference in distance was negligible.
However, one of my favourite benchmarks, ability to strike driver off the fairway gave it a higher percentage than its Ram rival, due to a slightly flatter sole.
Verdict

At £99 apiece, there's nothing to choose in initial price between the two, though if you shop around some outlets might offer up a real bargain. Though we found the Benross V12 slightly more versatile and with a higher quality, roomy headcover, the Ram FX9's confidence-inspiring and towering height off the tee, made it better for those new to the game, even though they had skimped a little on the headcover.
Golfmagic rating: Ram FX9 7.5/10; Benross V12 7/10