Feel The fear box set for kids
Price: £79.95
When golf-mad youngsters can't wait to get out on the driving range or golf course to emulate their heroes like Tiger Woods and Ian Poulter, it can prove an expensive business for mum and dad.
Today's kids aren't content to inherit their parents or older siblings' sawn-off cast-offs, so it's a tough call to find equipment suitable for your offspring without breaking the domestic bank.
However, Feel-the-Fear based in Exeter has developed a range of starter sets for children (and indeed adults) at prices, which shouldn't melt your flexible friend.
For the kids they are available in sets designed for under 6s, under 9s and under 12s and, with a fearsome Tiger logo, they go a long way towards the aim of achieving 'golf made funky.'
European Tour star John Bickerton, who promotes the brand, already has his six-year-old son George under his tutelage with a set. England World Cup rugby star Mike Tindall also supports the brand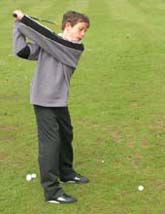 Will tests the clubs




And the clubs certainly appealed to 11-year-old Will Harris from Ancaster, Lincs. We asked him to review the set aimed at under 12s and when dad Robin, a member at Grantham's Stoke Rochford Golf Club, brought them home, he couldn't wait to get started.

The box set comes with three combination irons - 5/6, 7/8 and 9/pitching wedge, all of which have stainless steel cavity back heads and are fitted with graphite shafts and Winn-style soft wrap grip.

Also included is a Titanium-Matrix 5-wood (with obligatory enlarged sweet-spot and a lightweight graphite shaft), a mallet-styled putter, headcovers, lightweight stand bag with graphite-friendly dividers, dual strap and lots of room for balls and accessories.

With the football season compelted, Will, who has joined Stoke Rochford as a junior, is having group lessons with the club's PGA pro Angus Dow and is building up his confidence on the course and the range.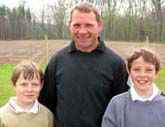 Will (right) with Dad and brother Sam




"I really like the clubs, they're so easy to hit," said Will, whose favourite player is Phil Mickelson.

"The 9 iron/pitching wedge is the easiest club to hit so far but I really like the putter too. I went round all the holes on the practice green in only three over par." - a creditable performance for anyone who knows the pitfalls of this undulating little surface!

Robin added: "The clubs are very light because of the graphite shafts, which is really beneficial for a lad of Will's age and size. He loves to get out on the range or the course and use the 5-wood too."

Meanwhile envious young brother Sam (9) is hoping that Will grows quickly so – he can eventually inherit the set from his big brother.
Verdict

For under 80 quid – and you can probably get them even cheaper if you shop around the stockists – this box set is exceptional value and much better for youngsters than a cut down set with stiffer adult shafts.
Golfmagic rating: 8.5/10