Callaway's latest FT-9 driver (left) and oreiginal FT-5 which it has superceded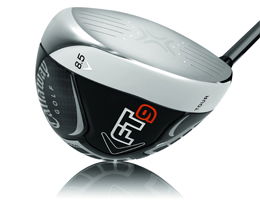 Sole and face of the FT-9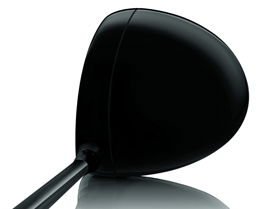 Crown of the Ft-9




THOUGH disappointed with his scores of 76 and 73 to miss the cut by several shots, Phil Mickelson, the World No.3, was pleased with the performance of the latest Callaway driver in his bag - the FT-9 replacing the FT-5 with the full sanction of the USGA which has only just approved it.

My coach Butch Harmon and I have been working on keeping my driver under control," said Mickelson "and this one allows me to get the ball to move softly and cut but not go hard left for me with such a hard cut. It barely moves."

The FT-9 has been created by Callaway to make it easier for players to work the ball while getting maximum distance off the tee. It features a carbon composite body and titanium face with Hyberbolic Face Technology to make it more forgiving. With its slightly open face angle and a lower, more penetrating ball flight, it can also be customised for a neutral or draw trajectory.

It goes a little longer than the FT-5 driver, Mickelson claims and comes off the face faster with ideal spin. While the original FT-9 club had been approved Mickelson's left-handed version with a few minor changes needed approval.

Apparently, he averaged 290.6 yards off the tee, 12th best in the field, and hit 46.4 percent of fairways,to be just outside the top 50 in driving accuracy. Sadly his putter went cold and he'll be hoping it warms up for this week's celebrity-sprinkled AT and T event at Pebble Beach.

Seattle-based ex-pro Tony Dear, one of Golfmagic's equipment testers (with a 95-100 mph swing-speed and average driving distance of 235-245 yards), says former Callaway FT-5 owners will fast become firm friends with the FT-9.

"My only wonder is questioning if there is sufficient difference between the two to justify parting with another substantial pile of cash for the new club. Looking down at address, the two appear very similar; black with traditional rounded shape.

"But the FT-9 has what it calls external web weighting (which determines the position of the centre of gravity and thus trajectory and shot shape) visible at the back of the sole. The FT-5's standard Fujikura E-150 has been replaced with the Fujikura Z-COM 60 which looks sleek and represents a nice upgrade. The bend point is higher, the launch therefore slightly lower."

He adds: "The composite crown produces a sound unlike that of all-titanium drivers; lower, quieter, not so explosive. That might not be to everyone's taste but it would be wrong to assume the FT-9 isn't long. According to the monitor, I carried it a 10-degree stiff-shafted version within a yard or two of the new Callaway Diablo and was able to hit a greater variety of shots with it."