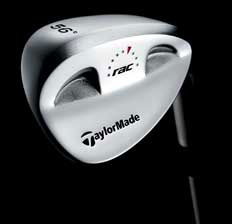 TaylorMade's Tour Preferred wedge.
TaylorMade Tour Preferred RAC wedges (56, 58, 60-degrees)
Price: £89
The voice 50 yards ahead of me sounded a little ecstatic: "Whoa, what was that?" he said as my ball danced on the green, then stopped as if barked at by a drill sergeant.
Apparently I'd produced a professional-looking pitch that had bounced on the front of the green, bounced again then checked up by the hole to leave me a tap in.
The two-handicapper in our group was impressed by this 11-handicapper's wedge precision. I only wished I'd seen it but without my specs most things that go on 50 yards ahead of me on the golf course are very much a blur.
A few holes later I was left with a similar length shot, having taken a penalty drop when my 7-wood approach had found a water-filled bed of reeds in front of the green.
I still had to negotiate the hazard and again reached for the 58 degree wedge. This time from a slightly higher trajectory the ball shuddered to a stop about six feet from the flagstick and I was able to roll in my putt for a bogey.
"How much do you want for those wedges?" said the low-man, "they're awesome."
I had to agree with his summation but they were not mine to sell, they were on loan from TaylorMade in search of an average golfer's opinion and for review on the website.
While many of my single-figure handicap mates have invested in upto four wedges in the quota of 14 clubs allowed in any one bag, I have never felt the need, preferring merely the pitching wedge and sand iron that are part of the set.
As for a lob wedge I have never really possessed the technique and confidence to make the most of it.
These newcomers from TaylorMade, however, have changed my opinion of the four-wedge strategy.
The 56 degree version acted as a gap wedge between my current 52-degrees pitching wedge and my sand-iron. It was perfect for a full shot from around 90 yards, down to delicate finesse shots from fringe rough around the green.
The 58-degree version performed far better than my sand-iron for those little 50-yarder bump and runs and high, three-quarter swing approaches over hazards from 60-70 yards.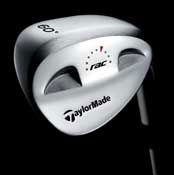 TaylorMade's 60-degree wedge.
This jury's still out on the 60 degree wedge. It demands a slightly different technique and a good deal more confidence through a few hours of practice before I can give it a rosette or a roasting.
TaylorMade tell me that a new groove design – deep 'U' tapering into a wide 'V' at the top - gives the golfer high backspin (stopping power) from a low launch angle (trajectory) combined with high ball speed (distance control). And certainly the results from three rounds of testing bear this out in the 56 and 58 degree versions.
Ernie Els, who won the Genuity and Dubai Classic back-to-back recently, also commented on the consistent feel across the face of the wedges. This, apparently is TaylorMade's newly developed RAC (Relative Amplitude Coefficient) kicking in, enabling its engineers to control how energy is channeled through its head after impact to create a consistency through the set of wedges.
While the Titleist Vokey and Cleveland ranges have perhaps set the standard in wedge performance, TaylorMade is confident that its new Tour Preferred family of scoring clubs will make an impact not only with the professionals but with amateurs, too, who are investing more in short range equipment.
Verdict

Though by no means in the hands of an expert, these clubs certainly made a difference to this handicap golfer's game and at under £90 each seems a fair price to pay for a club that can almost make a ball talk.
Golfmagic rating: 9/10