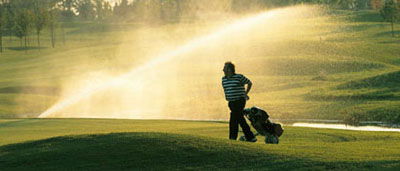 Course sprinklers threatened by ban
Park Golf Club near Bath has been targeted by a militant protest group, claiming it, and surrounding golf courses are wasting water and that ten per-cent of its land should be returned to nature.
Vandals, claiming to belong to the group, have ripped up five greens on the Cromwell course and threatened to attack four other clubs if they do not reduce their water use by 25 per-cent.
The action follows decisions by seven regional water authorities to impose hosepipe and sprinkler bans on domestic users, though it does not currently extend to golf courses which are treated like farmers, with annual water licences.
Bath, Entry Hill and Approach Golf Clubs were mentioned in a letter, posted in the Bristol/Taunton area. It claimed also that Lansdown had been targeted but it's believed the group mistakenly vandalised the Park course instead.
If the drought intensifies there is likely to be considerable ill-feeling if golf clubs are allowed to water their greens, while neighbouring private homes are forced to restrict water use on their gardens.
It's understood that one 36-hole golf club can use as much water as 10,000 houses when temperature and evaporation rates are high.
The drop in water levels in reservoirs – and consequent restrictions - is currently limited to the southern and south west counties of England and this could mean firm, fast running conditions and rock-hard greens this summer.
The Environment Agency and local councils warned this week that a continuing drought and new water restrictions in southern and eastern England could have profound effects on wildlife and plants, sporting venues and even the look of many cities as three more authorities apply to the government to impose draconian "essential use only" drought orders.