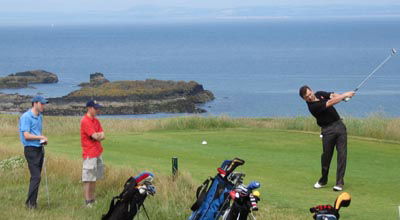 Teeing off at North Berwick's Glen course
Every year, when planning a few days of golf away 'with the lads', I'm confronted by an embarrassment of destination riches. So many countries, so many courses, so much bewildering choice.
But our criterion for a successful 'tour' isn't rocket science. We demand good courses at reasonable prices, a cheap, central base with a decent pub close by.
With The Open Championship on the horizon, our appetite for links golf for my three friends and I had reached mouth-watering proportions and we quickly agreed that where better to meet our simple demands than Scotland, where good golf courses are as plentiful as taverns to quench our thirst.
The coastline east of Edinburgh is host of many top links courses (though Muirfield at £120 was out of our price range) we agreed we wanted to test our modest abilities against some of the UK's finest alternative tests.
Thigh high rough, lightening fast greens and stiff sea breezes… bring it on!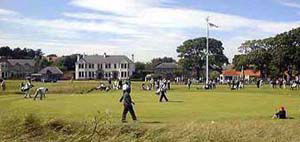 Gullane – mecca for golfers
After some short but intensive internet research we chose to stay in Gullane, a mecca for golfers built around close to the courses which serve the village and help provide much of its local economy. Call me a simpleton but Gullane was paradise for two reasons – a) the first tee of all three courses was within walking distance from our cottage and b) the pub was a sand wedge away. It was all teed up for a great few days. Unimaginatively named No.1, No.2 and No. 3 – Gullane's courses are a popular destination for many thousands of golfers heading for Scotland' s East Lothian coast every year including some of the world's leading professionals travelling incognito. And it's easy to see why.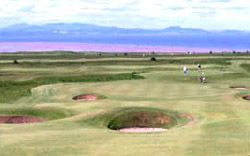 Infamous 7th hole at Gullane No.1




Gullane No.1 used as a qualifying course whenever The Open Championship is staged in this region, while Gullane No.2 is an easier but equally enjoyable test, perhaps more suited to those of use with aspirations not quite in the scratch category.

Both courses snake their way up and down a hill and through endless dunes, offering fantastic views over the Firth of Forth towards Edinburgh.

Gullane No. 1, a perennial presence in the country's top 100 courses, is a particularly good challenge for single-figure golfers like me, demanding straight tee shots between cavernous bunkers and a tidy short game to get you out of trouble.

Highlights include the tight uphill dogleg second hole, which requires an accurate drive to keep the ball on the narrow fairway and then a mid-iron to a raised green. The towering seventh tee provides the backdrop for the course's most famous hole with postcard views over the Forth estuary. With such a panorama you'd be forgiven for lifting your head. We needed all our concentration to keep our tee shots out of the sea of bunkers spread out below.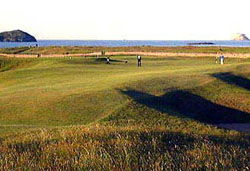 West links at North Berwick




At £85 a round midweek we decided it's expensive - but worth it! Other than courses on the Open rota, it's as good a links as I have ever played. And it wasn't as tough as we'd expected. The rough was not as deep, the greens a reasonable speed and all our scores were better than our handicaps suggested. Something was up!

As, perhaps, with any large club, the welcome is not as friendly as some but it's businesslike and efficient – as it has to be. In addition our green fee entitled us to free range balls to ensure our preparation was as good as it could be.

The No. 2 offers a watered down challenge but we enjoyed it so much we played it twice. More reasonably priced at £38 a round during the week, it included a downhill, driveable par-4 (17th) – a classic risk and reward hole with out of bounds behind the green and deep rough flanking the fairway. In the heat of the matchplay it's easy to notch up several more than par if you're too greedy.

With Muirfield - the jewel in East Lothian's golfing crown – allowing visitors on only two days a week, demanding bookings a year in advance and charging beyond our limited means we decided to give it a miss and header for the more accessible and cheaper North Berwick (West links), rated highly in a recent survey of the UK and Ireland's best courses.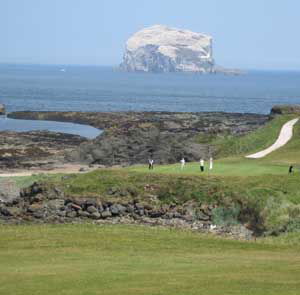 13th on the Glen course




First tee starts intimidatingly, in the centre of town, rather like the Old Course at St Andrews and the beach is very much a feature for slicers on the first three holes.

One of our group played a shot a few yards from the North Sea on one occasion, all within the confines of the course which is much flatter than the Gullane trio.

There are few weak holes and it is fantastic fun to play. Unusual features include a green guarded at the front by a low wall, while the 16th green is high at front and back with a deep furrow running through the middle.

The par-3 15th is the signature hole and the bunker guarding the sloping green has been copied worldwide, including the renowned Shinnecock Hills.

The innocuous-looking 274-yard 18th is a driveable par-4 but real nerve is required to avoid an expensive accident as inevitable a line of parked insensitively parked vehicles skirt the right side of the fairway.

Faced with an accident waiting to happen, one of my pale-faced colleagues sensibly aimed well to the left of the fairway.

Strategy plays a bigger role than length and accuracy here especially when the breeze is up and taking this on board, all of us scored better than our normal ability would suggest, though the rough was not as punishing as it could be.

In North Berwick we were struck by the warm welcome we received and even the starter shook us all warmly by the hand. Pleasantries cost nothing and his friendly advice on club selection from the first tee set us off in good spirits. The friendliness extended to the clubhouse and our 36 holes (£85 a day) was hugely enjoyable and great value for a course of such high esteem.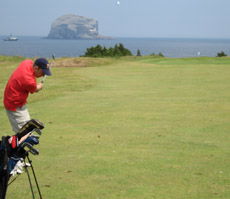 Bass Rock backdrop at North Berwick




The town's East Links is popularly know as Glen, offers similar stunning views where the 13th which is considered one of the Scotland's best short holes. The tee shot is blind to a small green sloping towards the beach and the massive Bass Rock backdrop. Downwind it is a flick with a wedge but locals tell us it's even as much as a 3-iron when the fickle wind turns.

East Lothian is crammed with other good links courses including Dunbar (another Open qualifier) and Musselburgh Links (the oldest course in the world). We contemplated their conquer on future visits as we sat outside our favourite 19th hole, Gullane's Old Clubhouse pub, to evaluate our trip.

We'd all played well but on such highly ranked links we hadn't expected to perform better than our handicap status and the number of golf balls we kept, had suggested.

The main reason, perhaps was that we were blessed with outrageously good weather with only the gentlest of sea breezes to contend with. Even the toughest courses are demolished by the pros when the wind drops – and that's probably also the beauty of the handicap system.

The courses we played were set up for club and holiday golfers who don't want to measure themselves against the toughest of benchmarks. They want to enjoy their game and the company they keep, with good shots rewarded and indifferent shots mildly punished.

A fourball can become tedious when you spend half the time searching in long rough – a key reason why we enjoyed this golf break more than any I can remember. Rarely was anyone out of the hole but contending became more difficult if you weren't on the short stuff. Surely that's the way it should be? Don't we all play the game because it's fun?