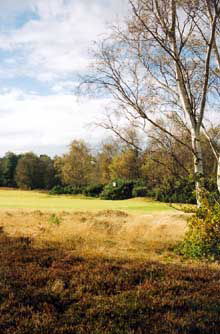 Woodhall's 7th green.
If this sounds like name-dropping, well I'm sorry, but it is. But it serves to make a point which, hopefully, will become clear.
I was standing under the giant gnarled old tree that serves as shade from the Georgia sun beside Augusta National's Clubhouse, when I spotted a familiar face, looking a little lost, among dozens of household names.
I approached Tom Weiskopf with some trepidation. He had won The Open in 1973 and been runner-up at the US Masters four times. At 6ft 4 in he towered above me.
Announcing myself to talk about his latest creation at Loch Lomond, he talked incessantly about Woodhall Spa Golf Club in North Lincolnshire which he described as his inspiration for his course designs around the world. After 30 minutes I couldn't get rid of him.
"There's a bit of Woodhall Spa in every course I build," he told me. "Tony Jacklin took me there once and I fell in love with the place.
"Now when I look at a piece of property on which I'm designing a course I try to remember something subtle from Woodhall, the fold of the land, the bunkering – even the fact that you can always see the top of the flagstick. I hate courses where the green is blind.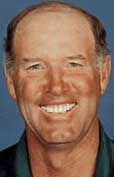 Tom Weiskopf.
"Wherever I go a bit of Woodhall goes with me," said Weiskopf, who has 40 courses to his name, including two gems – Troon and the PGA tournament Players club in his home town of Scottsdale, Arizona.
The Hotchkin course – as distinct from its much younger sister 'The Bracken' - was first laid down as a nine-holer by Harry Vardon in 1903, extended by Harry Colt in 1912 and re-designed by Colonel S V Hotchkin in the 1920s.
It's reputed to have a bunker for every day of the year and I found one of them on each of the first five holes I played last week – including one with a face like the side of a house at No.4 – and two at the 'short' 8th.
Slender firs and silver-barked birches dominate this beautiful moorland course, where carpets of wiry heather suck up any mishit tee shot and only spit out balls with reluctance.
At only 6,501 yards from the yellow tees it's no monster in its length but it demands precise positioning in the fairway and good course management if you want to play to your handicap.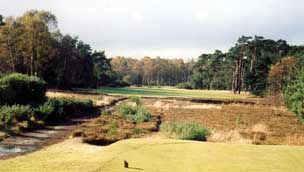 Woodhall's spectacular 11th fairway.
Inevitably at least one or two holes will find you out. For me it was the 143-yard 5th and the par-4 10th, a mere 328 yards. The first needs accurate control of direction and distance not to be kicked off into a cavernous sand trap, the other clearance of the heather into pin-point position to leave a tricky approach with a short iron. I cocked up both of the blighters.
Even in late October the greens were smooth and quick which makes this an ideal course to attack for a winter golf day and when the sun is low it makes the trees sparkle like a fairyland.
Recently rated 9th best course in Britain and Ireland, Woodhall Spa, may not be easily accessible geographically about 20 miles south-east of Lincoln but as the HQ of the English Golf Union it's accessible to the pocket and affiliated club member can get a discount if they book in advance and can prove their membership.
On reflection it's no wonder Tom Weiskopf couldn't stop talking about this hidden gem. Try it for yourself and you won't be lost for words, either.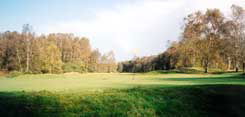 From the back of the 14th.
FACT FILEWoodhall Spa
(Hotchin course), Woodhall Spa, near Tattershall, Lincs, LN 10 6PU
Tel: 01526 352511
Green fees: £45 (weekdays per round, special winter rate November to May). Summer rate £60 per round. Booking essential, £15 discount for EGU members with handicap certificate.
How to get there: 19 miles SE of Lincoln on the B1191
Facilities:Also Bracken course (18 holes), EGU HQ state of the art driving and practice range academy.