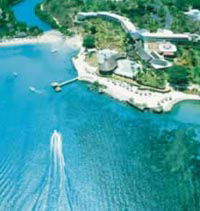 Maritim Hotel - idyllic
It took me a less than five minutes to make the decision to take my wife to Mauritius as part of her 40th birthday present. Admittedly, I was slightly distracted for a couple of those minutes, when I considered Thailand but eventually discounted it, for matrimonial harmony reasons.
Maybe me and the boys will go there on our own… another time!
I kept our destination a secret until we got to the airport, though the children knew, having giggled every time GMTV's Fat Club – which had been filming on the Indian Ocean island – made its daily appearance on the screen.
A 12-hour flight gave her chance to get used to the idea and build her excitement at visiting a place that had always been No.1 on her dream list of Paradise islands.
Sadly, our luggage failed to arrive with us but Air France was more than helpful and immediately gave us $100 cash to cover the inconvenience and duly delivered our possessions promptly, as promised, next morning.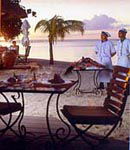 Great service




We stayed at the German-owned Maritim Hotel pn the north east coast near Port Louis, complete with nautically dressed staff and with a wide variety of sports and activities to enjoy most of which are free to residents.

A friend who had stayed there previously advised me that it had its own 9-hole course but as the taxi drew up on arrival, I feined surprise when my good lady commented: " Oh look! It has it's own driving range, that's handy for you, darling!"

With her settled by the pool, I ventured to the starter's hut the next day to discover that no green fee was required and clubs could be hired for a handful of rupees from the eclectic collection he kept in store.

Balls could also be purchased cheaply and they'd take back any I didn't lose on the course or preferred not to pack for the homeward journey.

"Oh and by the way, Sir, that's a great Titleist cap you're wearing. How much do you want for it?"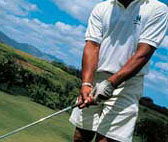 Great value lesson




I'd be fibbing if I said the course was a real test of golf, but at least I was able to swing a club and there was even a couple of holes where the driver could be used.

The hotel had its own professional who offered individual lessons but preferred that the $5 sessions were booked after 4pm when it was a bit cooler!

I duly made an appointment for the following day for a chipping lesson and it was probably the best three quid I've ever spent.

Beside the deserted 9th green, he quickly fixed my address position and grip and for the next half-hour I chipped and pitched like a pro and flopped balls from a bunker like Gary Player. Whenever my short game deserts me I still think of that local pro, in his little shack and his reluctance to venture out in to the heat of the day - and remember the rich tips he passed on for the price of a pint.

As we discovered, there's much more to relaxing Mauritius than golf, with plenty of water-related activities as well as horse-riding and tennis. October/November are reckoned to be the best season for weather, avoiding the January storms.

However, the island has several courses, most attached to hotel complexes like Bel Mare Plage which stages the annual Mauritius Open and where many European Tour pros take their families, while competing in shorts.

I have already started saving for the next trip to this idyllic island and am determined to come clean about my golfing aspirations and book my tee times in advance.

I might even discover that the starter's still wearing my cap!



If your interested in golf abroad then take a look at our Travel Partners who specialise in golfing breaks to European and Worldwide destinations.