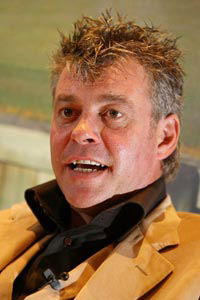 'Rotate the hips,'Clarke suggested
Normally the opportunity of an impromptu lesson with one of golf's superstars materialises only in your dreams. But let me reveal how it transpired that Darren Clarke – special guest at the Setanta Golf channel launch party in central London – took the time to give me five minutes of his considerable knowledge.
With question and photo commitments concluded, those with no fear of embarrassment lined up (behind me) ready to have their swings put on public trial
But not before Clarke had caressed a few silkily-swung 8-irons on a City Golf simulator at the superimposed target a 'par-3' hole of some 160 virtual yards.
Three of his efforts, incidentally, came up short and 'wet', the other leaked right. The resulted prompted quick inspection of the clubhead.
"Callaway, no wonder…" quipped Clarke, who plays TaylorMade r7 irons and has recently switched to TaylorMade Red ball.
Anyone that plays sport regularly will testify that when the pressure's on, resorting to what comes naturally will serve you best. As a regular cricketer and more nervous inside than out by a factor of 100, I addressed the ball and swung the club with a style more likely to loft a ball with a bat over the bowler's head than likely to deliver a golf ball down the fairway.
However, one shot finished 'long' and the second clung on to the virtual 'left-hand apron'.
"I'll take those, " said Clarke, before observing: "Try to rotate the hips earlier and slow your swing down."
It was information more easily distributed and digested than followed to the letter.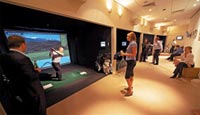 Line of simulators at City Golf




Still, as a willing victim, I made the conscience effort to rotate my hips in my subsequent swing and was instantly rewarded with a sweet connection and a shot gently drawn to the middle of the green.

"Now draw the club back steeper and on wider swing plane," suggested Clarke in that familiar Ulster twang standing at 2 o'clock to my address posture and indicating with his huge hands the line with which the club should be follow.

Sure enough my typical right to left ball flight was replaced with a higher, floating fade.

Wow! Instant fix. Immediately, I remembered what it says on the PGA Tour website: 'These guys ARE good!'

The added hip rotation helped to square the club face at impact and coupled with a new, steeper, outside-to-in swing path my cancerous hook suddenly looked a thing of the past. Five-minute swing 'make-over' complete!

My lasting challenge will be to remember and replicate what I learnt in Dazzer's capable hands on the simulator.

But for now, simply making contact with the ball and having enough confidence in my golf swing to be given a lesson from one of the world's best golfers was satisfaction itself.