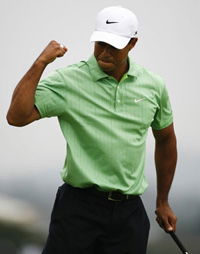 Tiger holes another one!
Sticking with the same routine is the key to putting well according to one of the top coaches in the US. It sounds obvious but how many time have we made a slight adjustment every time we miss a putt then fail to register just what we did right when we hole one?
To be consistent on the greens, says John Aber, US PGA from Allegheny Country Club, our routine should be the same whether it's the first or last stroke of a round - or whether you are putting from 60 feet or two feet.
Aber told the Pittsburgh Post Gazette "Putting routines vary from pro-to-pro and from amateur-to-amateur but once you develop a routine that you feel comfortable and it works, stick with it!
He says: " My routine is first determine the line of a putt, then making a practice stroke while looking at the hole. I place the putter head behind the ball, take one final look at the hole, and stroke the ball.
"You can come up with your own routine but make sure you do it every time you hit a putt. Tiger Woods has the same routine whether it's his first putt of the day on the practice green or whether it is a putt to win the US Open, "says Aber, who has twice qualified (2001 & 2006) for the US PGA Championship via the club professionals' route.