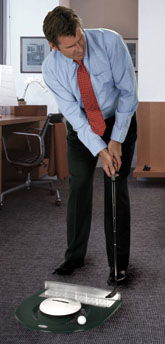 Faldo with the PinShot practice aid
Nick Faldo is endorsing a portable computerised training aid, which he claims he takes with him everywhere.
ThePinShot putting simulator, is designed to address all aspects of a player's putting stroke and even includes a game mode where nine holes can be played by up to four different players.
Its computer can simulate different greens speeds for putts up to 40 feet with a built-in stimpmeter and incorporates a swing measurer and a mirror to ensure correct head position and stance.
"PinShot is the only putting system I use," says the three times Open and US Masters champion. "I recommend it for anyone who wants a consistent, reliable putting stroke. It's a crucial part of my daily practice schedule, wherever I am in the world."
Cost of the simulator is £129.4 (including postage and packing) or £120 from various UK outlets.