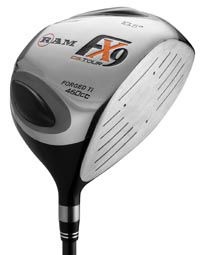 Ram FX9 CG Tour Ti driver
As part of its drive to dominate its section of the market with men's and women's metal-headed clubs, RAM Golf has introduced its flagship FX9 CG Tour Ti driver which it claims will take 'the value category to new levels.'
Priced at £99, the composite driver is said to add several performance features to the award-winning FX9 driver, which has proved so popular.
These include a combination of 460cc titanium body and carbon-graphite crown, enlarged sweetspot, a new sole design to create a higher launch angle and a ProLite Elie Grafalloy shaft.
RAM plans to reinforce the launch of its driver with a range of FX9 CG Tour fairway woods.
Says UK Golf Services chief Graeme Stevens: "Following the success of our FX9 driver, we charged our technicians with taking our lead driver for 2006 to the next level while maintaining its attractive and competitive price point. We're delighted with the result and confident that the FX9 CG Tour Ti driver's performance and value will make it an indispensable part of any mid-handicapper's bag."
Available from early February, the men's driver comes in either regular or stiff shaft versions in right-handed lofts of 9.5, 10.5 and 12, and left-handed lofts of 9.5 and 10.5. A women's model will be available in right-handed lofts (12 and 14 degrees) with a specialist Grafalloy shaft designed to complement a woman's swing characteristics to promote a faster swing speed.