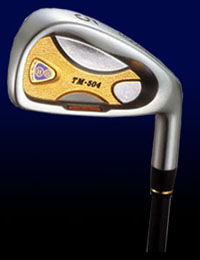 luxury Honma TM 504 iron
Leicester golfer Terry Porter and his father Zac, missed out on a millionaire lifestyle when they failed to tell the difference in price between the world's most expensive golf clubs and a hickory-shafted 1920s Mashie Niblick iron bought from a London street market.
Terry, a 22-handicapper, and his dad thought the classic club (worth £20 and purchased in Portobello Road) was an antique and might cost more than a set of unique golf and platinum-plated Honma TM-504 5-star irons and woods (worth £30,000).
He was wrong and both were eliminated from the BBC's 'Millionaire Manor' lottery quiz show on Saturday night.
The set of Honma clubs was completed by a 'Space Voyager' putter (RRP £235) and a Honma Tour bag (£274). Also competing for the Porters' guesswork was a £2,000 set of Callaway clubs.
The Honma clubs, soon to be introduced to the UK, were specially made for the show and some of the luxury range has already been featured in leading magazines GQ and FHM.
Said Honma's PR spokesman Andy Hiseman: "Honma was naturally delighted to be featured so prominently on a TV programme watched by nearly six million.
"It's rare that golf equipment is featured so clearly by a non-commercial organisation, so for the logo to be consistently seen is a major coup for the brand."
As a compensation for missing out on the show's main prize, by picking the lowest priced item of the three, Honma will be compensating Terry Porter with a free Honma Tour wedge.