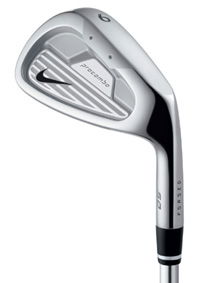 Nike Pro Combo OS iron
Iron rivals Nike and Ben Hogan area releasing new sets which they hope will capture the imagination of golfers seeking feel and forgiveness.
Following the introduction of the Forged Pro Combo irons in December 2002, Nike are following up with a set of Forged Pro Combo Oversize (OS), while Hogan's contribution are the BH-5s with a cast head and classic looks.
Developed by top craftsman Tom Stites, the Nike Pro Combo OS irons are made of soft/forged 1030 carbon steel, milled for better feel and a little extra distance per club.
The long irons, says Stites, are designed with a deep undercut and wide sole to position the centre of gravity lower and deeper to get the ball airborne, while progressive offset in the mid and short irons, reduces mishits. Each set is fitted with Nike's Speed Step Steel constant-weight shafts.
Says Sties: "We looked at the best approaches and techniques used in irons over the years and made them better. Golfers will really notice the difference in forgiveness, feel and performance."
Recommended retail price is £699 (3-iron to SW).
The new Ben Hogan BH-5 irons have a cast, perimeter-weighted stainless steel head – the first stainless steel cast construction irons ever introduced by the brand.
"It's a bold step in the rich history and promising future of the Ben Hogan brand," says Neil Howie, managing director. " We believe they are the best, most forgiving, cast irons on the market."
Aimed at the game-improver and with a £349 price tag for steel shafts and £425 with graphite, the BH-5 irons, say the makers, have extreme perimeter weighting, large sweet spots and have more resistant to twisting at impact.
In the short irons, the face thickens progressively with each loft as the centre of gravity moves higher, increasing the ability to achieve the desired ball flight and distance control. Set are offered 3-iron to pitching wedge, with 1- and 2-irons, sand wedge, gap wedge and lob wedge also available together with offset versions.
*Don't forget you could be one of three winners to claim a dozen Callaway Warbird golf balls every month if you submit a review of the equipment that's in your golf bag.