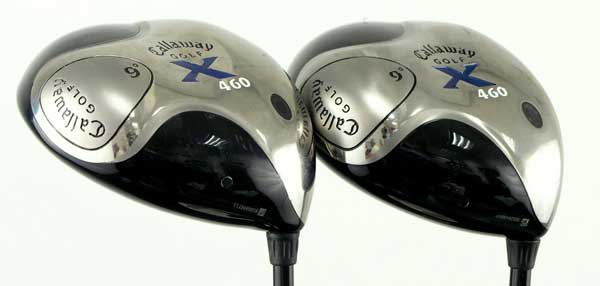 Two identical-looking Callaway driver heads - the fake is on the left.
  Most people in the UK, intentionally or not, will have had some contact with counterfeit goods. From the fake Rolex bought in Thailand to a pirate copy of the latest Hollywood blockbuster. Cheap replica football shirt counterfeits are even bogus perfumes are now seemingly everywhere.
And with billions being spent on its equipment worldwide, golf is by no means immune to this global criminality.
In America, the leading companies – including Acushnet (Cobra, Titleist, FootJoy), Ping, Callaway, Cleveland/Srixon, Nike and TaylorMade-adidas - have already joined forces to fight the forgers and knock-off merrchants, creating the US Golf Manufacturers Anti-Counterfeiting Working Group in 2004.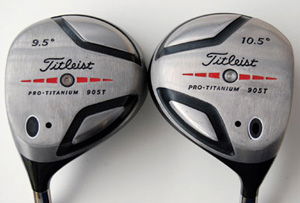 The fake Titleist 905T driver is on the left.




It shares information within the official golf industry and pressurises foreign governments to enforce their country's laws on counterfeit goods, particularly in places like China and Taiwan, where most fake clubs are produced.

It has been a slow process but finally raids, arrests and prosecutions are being co-ordinated and executed. Earlier this year, raids at the Sunshine Golf Store in Shangxinpu near Beijing resulted in the seizure of 10,000 items of counterfeit golf equipment, including 740 assembled clubs, 1,500 clubheads, 4,700 grips, 2,300 shafts, 280 headcovers and an assortment of towels, bags and clothing.

The estimated value of the haul runs into the millions of dollars. And that is just one of a number of high-profile cases that does at least give hope to those trying to stop the counterfeiters.

But while the manufacturers are strongly fighting their corner, sadly it is the average player who is the real victim. With the advent of online auction sites and shops – and a credit crunch that is lowering our budgets - more and more are buying clubs off the internet without seeing them first, making unsuspecting golfers easy pickings for the criminal gangs behind this fakes trade.

"It's a big problem for the golf industry, although not particularly for us," says Liam Robb, managing director of the PGA's official club exchange, www.Golfbidder.com.

"For every 1,000 clubs we buy, only one on average will be counterfeit, but I think we only see the tip of the iceberg. Golfbidder is unlikely to be the first port of call for someone deliberately trying to sell fake goods because the crooks know we closely inspect and photograph every club before putting them on the website.

"Most of the counterfeits we receive come from club pros who inadvertently take a very convincing fake as part of a trade-in. If they don't happen to stock every manufacturer they might not have anything with which to compare the fake one. Not being able to compare like for like is the biggest reason why so many get into the market."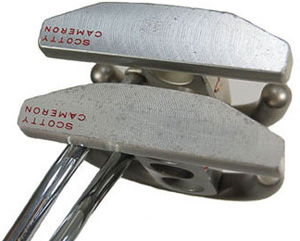 The counterfeit Scotty Cameron putter is below




But while there are a few knock-offs that are laughably poor, the counterfeiters are forever refining their techniques and improving the quality of their forgeries, making greater vigilance essential. Many golfers don't even know they have bought a fake, especially if the performance at first is not markedly different. If you are buying clubs unseen, you have little recourse, so it's worth bearing in mind the following pieces of advice by Robb:

Grips

Fake grips tend to have a strong cheap rubber smell to them and will often be thinner than standard. The printing on the grip is normally thinner and less defined, too. When you take the grip off, it will often have clear grip tape underneath rather than white tape.

Clubheads

The the lettering (fonts) used on the heads will often be thicker or thinner than normal. Also, the colouring of driver heads and shafts tends not to be spot-on, with colours being slightly different shades. Compare the club against one you know to be genuine.

Serial numbers

Sometimes counterfeiters will copy a random serial number which doesn't match that particular model or specification. This is quite often with counterfeit Callaway clubs. If you have suspicions and there is a serial number, phone the manufacturer for verification.

Weight

Fake clubs tend to be of an incorrect weight. For example, fake 'titanium' drivers will tend to be heavier than they should be because they're actually made of stainless steel. Also magnets won't normally stick to titanium, so it's worth making that simple test.

Shaft labels

Watch out for steel shaft labels. Dynamic Gold stickers are sometimes copied but the colour on the shaft band will not be the correct shade or the correct size.

Headcovers

A fake club normally comes with a fake headcover, so again this will be of poorer quality of a paler colour and will be thinner. The sock/neck tends to be shorter.

If you have any doubts over the authenticity of a club, it pays to seek professional advice. For more information on avoiding counterfeit club, visit the golfbidder website, www.golfbidder.co.uk.