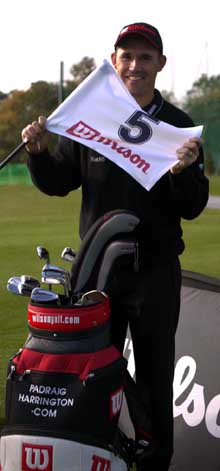 Harrington - dedicated to practice.
Apparently, most club golfers believe the world's top pros spend more than four hours a day practising – and that Padraig Harrington is one of the most dedicated.
According to a worldwide poll of club golfers conducted by club manufacturers Wilson - to mark Harrington resigning with them for a further four years - the Irishman sits just behind Tiger Woods, Vijay Singh and Ernie Els in terms of his work ethic. In Ireland they rank him No.1 ahead of Woods and Singh, but they would, wouldn't they?
The poll indicates that club golfers believe the high skill levels required mean that top pros practice more often than stars of other sports. And almost half of all the golf fans polled like to watch players on the practice range when they attend tournaments, that's more than twice as many as those who said they view players on the putting green.
The survey, commissioned to mark the signing of Harrington's new five-year contract with Wilson, also shows that his devotion and sportsmanship are characteristics admired by golf enthusiasts on both sides of the Atlantic, along with his cheerful demeanour and reaction to occasional disappointment.
"The survey results re-affirm why Wilson is right to extend our agreement with Padraig," said Angus Moir, global business director of Wilson Golf. "It proves that he is dedicated and popular among golf fans on both sides of the Atlantic."
Harrington ranks behind multiple major-winners Tiger Woods, Jack Nicklaus, Gary Player, Nick Faldo and Vijay Singh, alongside Arnold Palmer and ahead Ben Hogan, Ernie Els and Greg Norman in the all-time list of golfers most dedicated to training and practice, according to the survey.
The Ryder Cup star, who first signed to play with Wilson Fat Shaft clubs in 1998 confirmed his faith in the latest Deep Red irons and metal woods and will now play Wilson clubs through to 2008.
Harrington commented : "I have come a long way with Wilson clubs and I believe that continuing to play with the Wilson Deep Red irons and the driver gives me a distinct advantage."
During his last six years under contract with Wilson, Harrington has proved one of the most consistent players on the Tour and won almost $12 million in prize money around the world.
He lives in Dublin, Ireland, with his wife Caroline and new-born son Patrick.