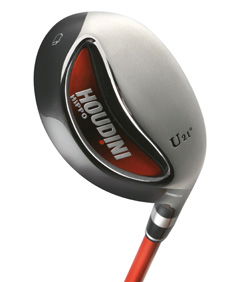 Houdini hybrid
Hippo is introducing Houdini hybrids to its range of 'entry-level' drivers and fairway metals, describing them as 'the great escape clubs!'
With its shallow face design and cut-away sole, the Houdini claims to deliver a better ball flight and minimise drag at impact from almost any lie. The result, says Hippo, is 'powerful penetrating shots' from variety of lies, including the rough.
Designed with a low torque 75g graphite shaft, Houdini Hybrids are available in 18, 21, 24 and 27-degree lofts in a regular flex only. recommended price is £49.99.
*Tell us about the hybrid and rescue clubs in your bag - as well as the more orthodox clubs,the balls, shoes and waterproofs. Submit auser review for the chance to win terrific prizes every month.
Golfmagic has over 3,000 items of equipment reviewed within its system, many of which golfers use to consider their purchases. Most, too, can be bought from our shopping partners, which are listed on the left-hand side of every page.
And if you've got equipment to buy or sell second hand you can do that too, in our popularclassified section.