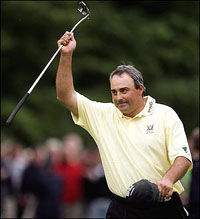 Cabrera with his new putter
For Angel Cabrera, the Argentinian who won the prestigious BMW Championship at Wentworth at the weekend, losing the use of his belly putter two weeks ago was probably the best thing that could ever happen to him.
Playing in the pro-am at the Daily Telegraph Dunlop Masters at the Marriott Forest of Arden, he was partnered by former England cricketer Derek Pringle, now a Telegraph columnist, when the pair shared a buggy and ended the putter's fragile life.
Though Pringle's driving of a golf ball is not to be sniffed at, he could be charged with driving without due care and attention when at the wheel of a golf cart – and when negotiating a tricky manoeuvre under spectator ropes managed to decapitate Cabrera's favourite flat stick.
The Argentinian was not amused but agreed to try one of his equipment sponsors Ping's prototype Craz-E models – with a shortened 36-inch shaft and revolutionary black insert.
It proved a blessing, disguised in a potential disaster for one of the world's top 30 players.
A few minutes on the practice putting green and Cabrera's mood lifted. He went on to finish 31st in the Midlands and third in the Nissan Irish open at Carton House.
He followed this with probably his greatest triumph to date a two-stroke win over Irishman Paul McGinley in the European Tour's flagship event.
His powerful long hitting may have contributed to his stunning weekend rounds of 66 and 67 but it was his confidence with his new putter that finally made the difference and allowed him to contribute some of his £400,000 pay check to young golfers in Argentina struggling to gain a foothold in the professional game.
For the record also in Cabrera's bag of Ping equipment this week was a 7-degree G2 460 driver, a TEC 12 F20 fairway metal, eight S59 Tour irons (3-ron to pitching wedge), a 52-degree Tour wedge and the latest 60-degree (low bounce) lob wedge.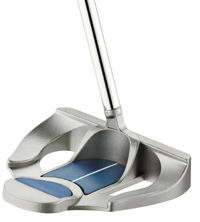 The new centre-shaft Craze-C putter
We want you to tell us if the loss or breakage of equipment from your bag has led to a change of luck in your game.
We'll pick one of the entries at random to win the latest Ping Craz-E putter, similar to Cabrera's and worth from £125-£140. You can choose from the centre-shafted model (Craz-E C), Anser style hosel (Craz-E H), a broomhandle (Craze-E L) or belly putter (Craz-E B) customised to your own specification, left or right-handed.
Each has the distinctive, original Craz-E features, seen on models used by Lee Westwood and others, including: extreme perimeter weighting, a full-face G2i insert, low centre of gravity and alignment system and a soft G2i blue grip to enhance the feel of the putter.