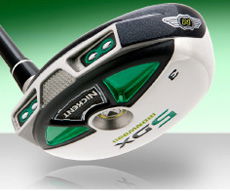 The latest 5DX hybrid from Nickent is coming to the UK and Ireland
      The Nickent 5DX Ironwood, reputed to be the longest and straightest hybrid the company has ever produced, is coming to Britain and Ireland with the establishment of the brand in Europe later this month.
The revolutionary shape, created by legendary club maker John Hoeflich is designed to place discretionary weight to the extreme perimeters of the clubhead, with 'wings', on the rear to optimise the centre of gravity, improve stability and and make miss-hits more forgiving.
Hoefflich, whose creations in the past include Tommy Armour 845, Titleist DCI and TaylorMade RAC irons reveals that the 5DX will be available in nine different lofts, from 14 to 26 degrees with 1.5 degree gaps between each club.
The 5DX is the next generation of award-winning hybrids from Nickent, updating the 3DX and award-winning 4DX.
Other clubs sure to attract attention, when Nickent launches officially in the UK and Ireland in London on April 24 is the 4DX Evolver driver, with interchangeable shaft technology, the 4DX irons and 4DX hybrid/iron combo sets, ARC blade irons and ARC wedges.
Further details from : www.nickentgolf.com