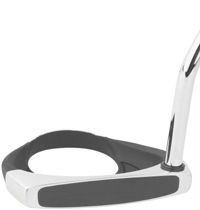 Prowler with built in 'scoop'
A putter can have an insert face, heel-toe weighting, low centre of gravity, angled hosel, multi-coloured paddle grip, interchangeable cartridges and any number of alignment aids.
I love all these features and occasionally one of these combinations will help me hole more putts.
But, when an opponent concedes a putt, if I can't scoop up the ball with an instinctive, flamboyant, Zorro-like flourish with the back of the clubhead, it will never quite endear itself.
Surely, it's all part of golf to be able to toss up the ball casually, then pluck it out of the air with the noncholence of a magician grasping a floating silk handkerchief.
So imagine my particular interest when Lynx claims to introduce 'a unique and innovative ball pick-up mechanism' to its LP1 Prowler putter!
It's designed with an eliptical space behind the head, which also helps with the forward weighting for a smoother, non-skid roll off the clubface. A polymer face insert also claims to assist the strike with softer feedback for better touch.
The LP1 Prowler is available in three shaft lengths for men and two (33 and 34-inch) for women and has a recommended cost of £69.