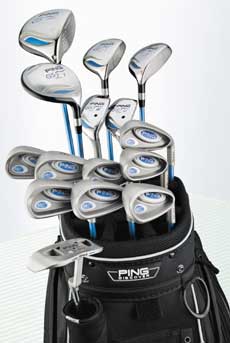 Ping G5L clubs for women
Women golfers continue to receive plenty of attention from the major brands, with Ping the latest to offer a range of new equipment in a bid to spread its appeal.
The Gainsborough-based company has launched a range of G5L clubs, designed to be custom-fitted to help women get the most from their game.
Drivers, fairway woods, irons and hybrids are included and engineered to help women hit longer, straighter and higher shots. Clubs can be sold individually, allowing customers to choose their favoured combinations.
Says Ping chairman John Solheim "Our engineers challenged themselves to match the design of the G5L to the very specific needs of women golfers. The result is our highest performing women's product to date. The early feedback from women who've tested the clubs has been extremely positive."
Flagship of the new range is a choice of two 460cc drivers – the G5L and the G5L Offset (both £249) - designed to help women achieve longer and straighter drives. Both feature a forgiving 14-degree loft and ultra-light graphite shaft to complement slower swing speeds.
G5L fairway woods (£129 with steel shafts, £169 for graphite) offer a higher-launch and softer landing with a choice of 3-, 5- 7- and 9-wood, while the G5L hybrid (£145) provide a mid-iron alternative and, says Ping, ' to encourage women to attempt shots never before imagined'. They'll have 26 and 30-degree lofts.
With large heads and wide soles to help women launch the ball higher and straighter, the G5L irons (5-iron to sand wedge) have a wider gap between lofts than traditional irons, so women with slow swing speeds 'can achieve meaningful distance gaps and benefit from every club in the bag.'
Individual irons can be bought at either £80 each with steel shafts or £95 with graphite.
*Tell us about what's in your bag – clubs, putters, balls, waterproofs - by submitting a user review
And if you've got equipment to buy or sell second hand you can do that too, in our popular classified section.