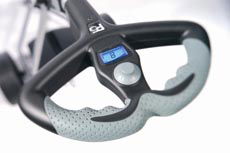 PowaKaddy P5 handle
Powered trolleys used to be the preserve, mostly of the the aged or ' ladies who lunch' – and play golf . Not today. They are the status symbol of the upwardly mobile golfer and even competitive kids looking for an advantage over their keenest rivals.
No longer is a motorised bag carrier an object of sympathy or even derision, they are sleek, streamlined work-horses that can save you several shots a round, especially down that tiring 'stretch.'
For over 20 years PowaKaddy has been No.1 among UK brands and now claims its latest P5 model represents 'a quantum leap' in design and technology, delivering 'more power, efficiency functionality and style.'
With its ergonomically-designed, tactile grip-handle, the new P5 features a one-touch control indicating both speed and battery power. A new motor, twin gear box and battery platform combined with balance and lower centre of gravity distribution across both driving wheels make it, says PowaKaddy, its most efficient model in the range.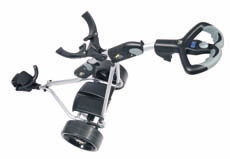 PowaKaddy P5 framework
A universal bag grip automatically adjusts to any bag shape to prevent twisting and a 'quiet running' front wheel allows for simple on-course steering adjustment.
The suggested retail price is £499.
Recently one of the first models – a golf-plated version - was presented to four-time Olympic Gold medallist Sir Matthew Pinsent for a charity auction, which helped to raise £50,000.
*Tell us about the trolley you use - as well as the clubs, balls, shoes and waterproofs – by submitting a user review
And if you've got equipment to buy or sell second hand you can do that too, in our popular classified section.