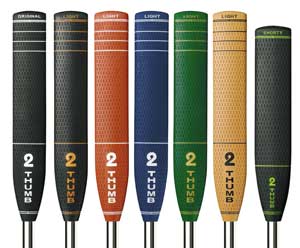 2 Thumb grip range
The pioneering 2-Thumb Grip putter handle is to receive the backing of the UK's leading developmental minds after being named one of the most innovative inventions in the sports industry.
Its designer Peter Gazeley has received the prestigious Gatsby Innovation Award which which will enable the company to receive specialist support and validation from the UK's leading sport technology laboratories at Loughborough University.
Researchers at the University's Sports Technology Institute – a £15m initiative to enhance innovation and enterprise in sport and leisure – will help in its development.
European Tour players Miguel Angel Jimenez, Philip Archer and Mark Foster are among those who have used the grip successfully since it was launched in 2005. It allows both thumbs to be placed side-by side to eliminate one hand being too dominant and minimise twisting of the clubhead at impact.
Says Gazeley: "The 2 Thumb Grip has already helped improve the putting fortunes for professionals and amateurs. With the backing of the specialists at Loughborough it will benefit from their expertise needed to continue to revolutionise the art of putting and take it to the next level."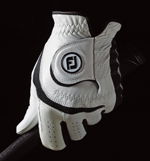 Shock Stopper from FootJoy




FootJoy, has further strengthened its market-leading range of gloves with the introduction of the FootJoy ShockStopper (£14). The new glove uses Holofibre technology to improve grip strength, with specially developed leather cushioning and minimising club vibration.

With Coolmax Lycra across the knuckles for breathable comfort as the hand flexes, a new, angled ComforTab creates a precision fit.

Have you tried the 2-Thumb grip on your putter? How do you hold your putter? Orthodox reverse-overlap, two fisted or inter-locking? Left below right, the claw or have you developed your own style? Tell us on the forum.