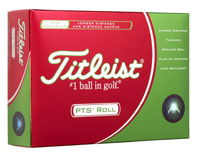 Distinctive box of the new Titleist PTS Roll ball
It was a rare treat and a privilege to sit down recently with one of the key figures in golf ball technology to hear his views on Titleist's latest strategy of introducing the PTS Carry and PTS Roll ball.
Already market-leader with its premium priced Pro V1 and ProV1x balls, George Sine revealed why the company has narrowed down its target audience of golfers by providing a ball with two distinct approaches to distance through greater carry and greater roll.
"The new PTS Carry and PTS Roll balls were derived from some of our most extensive product testing and golfer feedback," Sine, vice resident, golf ball marketing and strategic planning for the Acushnet company, told a gathering of golf journalists and Titleist and Cobra staff at a conference in Vilamoura, Portugal recently.
"Until now, no golf ball brand has has given this much attention to determining what's best for the game's moderate to slow swing speed golfers.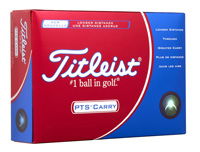 Titleist PTS Carry balls




"We consulted over 3,000 loyal Titleist PTS players and average recreational golfers before deciding what ultimately became PTS Carry and PTS Roll golf balls.

He revealed that Titleist researchers conducted three major player tests and an overwhelming majority, who typically hit their drives in the 200-yard range, said there was a distinct difference between the two options. Roughly half cited a preference for the higher ball flight of the PTS Carry and half for the lower ball flight of the PTS Roll.

"Creating the PTS Carry and PTS Roll addresses a sizeable opportunity for average golfers to optimise their distance and playability," said Sine. "And most important in our tests, golfers liked the benefit of having two options. They felt Titleist was the first brand to make such a dedicated effort on their behalf."

In a nutshell, the PTS Carry has a large and soft core and a 252 dimple design for a high ball flight and more carry through the air, aimed at golfers with a low launch (that'll be me, then!) The PTS Roll ball has a soft, more resilient core and a 392 dimple design to deliver a more penetrating ball flight and greater roll for those who tend to hit the ball too high. Both will sell at around £21 per dozen from March 1.