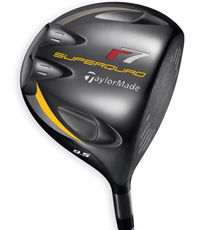 TayorMade r7 SuperQuad
The surge towards square-headed drivers will last about three months, according to one of the rivals of Nike and Callaway, currently focussing much attention and a lot of business hopes on their respective SasQuatch Sumo2 and FT-i 'square-head' technology.
Mark King the outspoken chief executive officer of TaylorMade, which is promoting its own r7 SuperQuad and Burner drivers, predicted in an interview with Golfweek in the US: "The square-headed driver phenomenon will be over in about 90 days."
He underlines his belief in the knowledge that Nike and Callaway have 'hedged their bets' with more conventional drivers - SasQuatch Sumo and Fusion F-5 - launched around the same time, while Titleist and Cobra (both from the Acushnet company) have opted for more tapered shapes in the 907D and Speed LD drivers.
King and his researchers have bet on moveable weight technology - the opportunity to change the characteristics of a club and fit an appropriate ball flight to a player's swing - being the route to follow to maintain consistency and stability.
The decision, say many observers, has made TaylorMade the industry leader with claims that 70 per-cent of drivers sold have some version of its movable weight technology.
But TaylorMade is also engineering drivers without MW technology. Unlike the four-weight SuperQuad, the bullet-shaped Burner, had none in its 460cc head.
While many agree that squeezing the weight already in the head of a driver into the corners (square shape) helps the club's stability at impact for straighter shots, by automatically squashing the depth of the face it limits ball flight and creates more spin.
"That's the design of the 3-wood," says TaylorMade's Benoit Vincent.
Square drivers have so far claimed one Tour victory in the hands of Nike's KJ Choi, while Callaway's Phil Mickelson threatens to swap between Fusion F-5 and FT-i, depending the accuracy he needs for certain PGA tour courses.
The world's top woman golfer Annika Sorenstam, who plays Callaway clubs on the LPGA tour, has yet to be convinced about the square driver until she hits it "a few more times."
It remains to be seen whether the golfing public will perceive the 'revolutionary' square heads with their distinctive sounds, as pushing back the boundaries of technology or merely another ruse by the manufacturers to take advantage of our desire to hit the ball higher, longer and straighter than our playing partners.