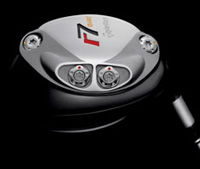 TaylorMade r7 Quad driver




The countdown has started to the release of TaylorMade's new r7 Quad driver – used by underdog Scott Drummond in his victory in the Volvo PGA Championship at Wentworth and also in the hands of Justin Rose and Sergio Garcia.

Club golfers can expect to get their mitts on sample drivers from June 15 and there's already a backlog of customers desperate to check out the revolutionary club. At Wentworth, 27 pros had the r7 Quad in play, making it the most popular driver in the event.

The new driver features a revolutionary adjustable weight technology called the TaylorMade Launch Control System, that allows players to select the trajectory and shape of their shot by configuring four weights in different positions around the driver head.

The TLC system allows the golfer to change the position of the cartridges for their desired golf ball flight, by using a specially created wrench.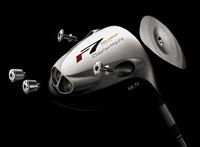 Exploded illustration of r7 Quad




"Distance tends to be lost if the driver's launch conditions don't match up with the individual's swing," says TaylorMade's Dr. Benoit Vincent, "By providing a range of launch conditions in one club, we've given players the opportunity to find a combination of spin-rate and launch angles that will allow them to achieve optimum performance."

The r7 Quad is capable of delivering six trajectory types to help the player hit the ball higher or lower, while also enabling low and mid-handicap players to work the ball to the right or to the left by varying degrees up to seven yards.

Collaborating with tour professionals such as Justin Rose, Ian Poulter, Darren Clarke, Sergio Garcia, Retief Goosen and Paul McGinley, TaylorMade engineers took on the task of developing a driver that could deliver multiple launch conditions.

"To optimise my driving distance, it's important to be able to have a choice of launch conditions," says Rose. "It's something that no other one driver has been able to deliver in the past, and therefore makes the r7 Quad a hugely significant addition to my bag."

Darren Clarke says: "The r7 Quad helps me to create changes in ball trajectory and dispersion which greatly affects the distance I can get on my drives. I think any player who can consistently repeat their swing, such as a low to mid-handicap amateur, will really benefit from this new technology and make them much longer and straighter off the tee."

The r7 Quad, will be available in lofts of 7.5, 8.5, 9.5 and 10.5 degrees, with a recommended retail price is £449. For your nearest dealer call 01256 479797.