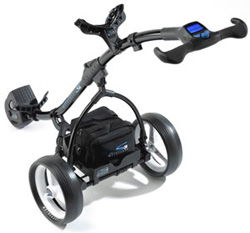 Motocaddy S3 and battery
It has reached the time of year when many of us consider putting our powered trolley away. Alternatively we're forced into it by a local trolley ban and instead fetch out the carry bag to lug half a set around the course.
If you're unable to use your electric trolley for a long period because of poor weather the following advice will help keep your trolley battery in good condition.
*DON'T leave your battery 'on charge' for more than four weeks. This will dry out the battery, shorten its life and shorten the life of your charger.
*Fully charge your battery, disconnect it from the charger and store the battery in a cool place away from frost.
*Your battery will keep its charge for up to three months but remember to give it a full charge every 4-8 weeks to maintain an optimum charge level, then charge your battery just before you play again.
*Periodically check that your battery terminals are fully tightened as this is the most frequent cause of an under-performing battery.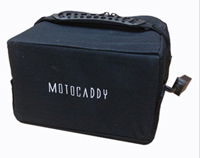 Motocaddy 36-hole battery in protective bag costs around £80.




Golfmagic also asked Rod Brown from leading powered trolley supplier Motocaddy for his recommendation for trolley battery care:

"Taking care of traditional AGM batteries (also known as Sealed Lead Acid batteries) for golf trolleys is pretty simple," he says, confirming that if its stored full-charged over the winter, remember to give it a full charge once a month.

"Unlike most battery types, you should never run an AGM battery down to the point where it runs out of power. To maintain the lifetime of an AGM battery, you must always put it back on charge within 24 hours of playing golf with it.

"The worst possible thing that you can do is leave the battery in the boot of your car for a week or so after you've played a full round of golf. The battery sits there and dries out. It can take a good 10 to 15 charges and discharges to get the battery back up to being able to get round 18 holes after treatment like that!"

Here's a selection of frequency asked questions answered by trolley-maker HillBilly, which may also help the care and maintenance of your golf trolley battery:

How long does a charged battery last?

A fully charged battery will easily last 18 holes, even on courses with the most extreme gradients. The basic golf trolley battery is not normally designed to last 27 or 36 holes. If playing such distances we advise the use of two batteries.

How long does a battery take to charge?

Re-charge time on a golf trolley battery is approximately six to 10 hours.

Can I take a battery on an aeroplane?

The battery is fully sealed, maintenance free, valve regulated and suitable for transportation by air, land and sea – in accordance with IATA regulations, although we do recommend you speak to your travel provider.

HillBilly battery and charger
Should I purchase a battery second hand?
Recommended mainly as a back-up if you wish to play 27 or 36 holes in a day. A second charger is not necessary.
Can I connect my battery from the mains via a time switch?
No. This does not guarantee the battery will be fully charged.
If I only play nine holes, do I still have to re-charge the battery before the next game?
Yes. Regardless of the number of holes played, the battery of your electric trolley must be charged after EVERY use.
Is my battery ready as soon as the green light shows on the charger?
For a Hill Billy charger bought after January 2004 - (serial number post C215881) the answer is 'Yes.' The green light indicates the battery is fully charged. For a charger bought in or before January 2004 (serial number pre C215881) the answer is 'No.' The HillBilly battery must be charged for a minimum of 10 hours before it's used again, even if the green light shows earlier than this.
Should I sometimes fully discharge my HillBilly battery?
No. HillBilly batteries must never be completely discharged; it may severely damage it.
Tell us on the forum about the brand of battery and trolley you have and what kind of workload it handles and how you treat it. Maybe you can also answer the questions posed by GM member Maurice McIlwrick.