Wilson Golf irons have earned more Major victories than any other and now under its Wilson Staff brand, the company has launched Dyna-Fit Online to help golfers determine their optimum 12-club selection, featuring the most appropriate distance gaps and lofts from short irons to fairway metals.
By answering questions interactively on the Wilson Staff website a two-minute session that evaluated my responses to deliver a 12-club recommendation, I was able to tailor it to my theoretical preferences, though not including driver and putter.
For example, as a player who prefers fairway metals and hybrids to long irons and is more concerned with control than feel or distance in my irons, not surprisingly, the system suggested my best option was five woods and three wedges.
The FYBrid 3- and 4-wood and FYbrid No. 3, 4 and 5 hybrids would combine nicely with Wilson Staff's Ci7 6-iron to 44-degree pitching wedge. And as I rarely used a sand-iron from anything but escapes from greenside traps, a 56-degree Tw9 wedge would compliment a 50-degree Tw9 gap wedge.
Other golfers might be more inclined towards less woods and hybrids, longer irons and extra wedges.
The Dyna-Fit online system incorporates the brand's 'Own the Fairway' concept by recommending the Wilson Staff iron set best suited to each player's game, based on playing style and shot characteristics. Then it matches long and short game options from the FYbrid fairway utility family and Tw9 wedges.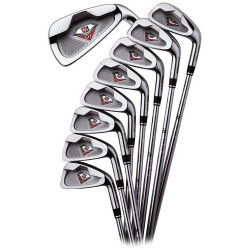 Wilson Staff Ci7 irons




"Golfers are faced with a wide variety of club options, with hybrids, fairway woods and long irons covering the same loft and length range, so it can be very confusing," says Wilson Golf's Rick Hazelden. "When it comes to the short irons, the average modern pitching wedge has 46 degrees of loft compared to the average sand wedge loft of 56 degrees, that's a 25-yard gap in most players' bags. Dyna-Fit Online offers a simple solution to this club selection process."

The Tw9 wedges are available in 2-degree loft increments from 48 to 60 degrees and says Wilson Golf amabassador Padraig Harrington: "There's no substitute to spending some time hitting normal pitching wedges then normal sand and lob wedges, seeing the actual differences and figuring things out.

"There comes a point when there will be a gap and Wilson's Tw9 wedges are here to fill that gap – just as the FYbrids are at the other end of the set."

Tell us on the forum if you've been fitted for clubs online and how the process worked for you.