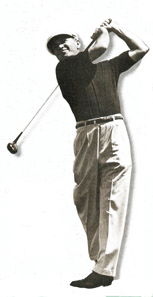 Hogan -tribute museum.
Ben Hogan's trademark white cap will be among the memorabilia unveiled at the World Golf Hall of Fame village in Florida today when an exhibition dedicated to the golf legend opens.
It's 50 years ago, that Hogan became the first player to win three professional majors in the same season - the 1953 US Masters, US Open and Open Championship at Carnoustie – and to celebrate his career the Ben Hogan division of Spalding Sports Worldwide is providing many of his treasured collection of clubs and artifacts.
The company has donated one of two original sets of golf clubs made in 1954 in their original box, copies of previously unseen photographs, a letter from Hogan distributed to club pros in October 1953 introducing the plans for his golf company and that distinctive cotton cap.
A persimmon-headed driver and 4-wood among the last Hogan used, and his scorecard from the 1953 US Open at Oakmont Country Club are also among the possessions, together with several putters, including prototypes he developed, a pair of his shoes with extra spikes and a scorecard from Shady Oaks Country Club in Texas when he beat his age for the first time, shooting 64 at the age of 65.
"Mr. Hogan's achievements and contributions to the game are so monumental and should never to be forgotten," says Sharon Rea, Hogan's long-time assistant, who was instrumental in organising the exhibition. "This museum is the best tribute we could pay to Mr. Hogan."
"We're pleased to join the World Golf Hall of Fame to bring Mr. Hogan's achievements to life for all the world to enjoy and appreciate," said Ian Stringfellow, director of marketing for Spalding Sports near Cambridge, owner of Ben Hogan golf in the UK. "He is truly among sports greatest legends, so golf fans, historians, and sports fans alike will enjoy this wonderful exhibit."
His dramatic life story was made into a Hollywood film, entitled Follow the Sun, with Glenn Ford in the starring role, ironically a non-golfer.
*If you get the chance to visit the World Golf village and the exhibition tell us what you think on The Forum.