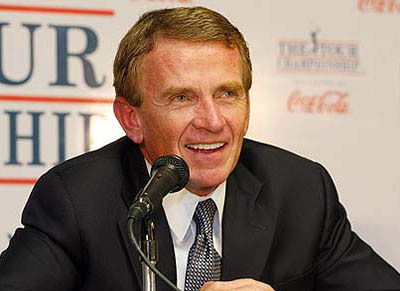 Tim Fincham - US PGA Tour commissioner
Golf was effectively dragged kicking and screaming into a 21st century when it reluctantly signed off on an anti-doping policy despite denials of a drug culture affecting its players.
In July, outspoken former major champion Gary Player claimed he knew of top golfers taking drugs to improve their performance but refused to name them. Fuzzy Zoeller has also admitted that he wouldn't be shocked if some pros were taking performance-enhancing drugs.
Until the summer, golf's influential organisations had baulked against uniting alongside the world anti-doping leaders because they felt the game had no case to answer. However golf's key figures got together this week to agree on an anti-doping strategy which could be introduced as early as April 2008, though penalties for transgression are still being decided.
One of the strongest critics against introducing drug-testing into golf is US PGA Tour commissioner Tim Finchem who has said there has been no evidence that pro golfers have taken any performance-enhancing drugs. However, pressure from other world organisations as well as players including Tiger Woods, have urged him to change his mind.
"But for the problems in other sports, I doubt we would be at this point," Finchem said in a conference with the leaders of six major golf organizations. "We are where we are given the way of the world. And I think it's a positive day for golf because we are together (and) we are spending a lot of energy to do it right."
The other organisations joining the PGA Tour are the European Tour, LPGA Tour, U. S. Golf Association, Royal & Ancient Golf Club, Augusta National Golf Club and the PGA of America enabling the policy to cover golf at the highest level all over the world, including the four majors.
Officials released a list of 10 classes of drugs that will be banned, which include anabolic steroids, hormones, narcotics and beta blockers. However, two substances from the World Anti-Doping Association list, which is used in the Olympics and other sports, was left off golf's banned list because executives do not believe glucocorticosteroids and Beta-2-Agonists enhance a golfer's performance.
A key consequence of golf introducing anti-doping laws is that it hopes it may eventually be included as an Olympic sport.
Among those originally against an anti-drugs policy was six times major champion and 2008 Ryder Cup captain, Nick Faldo, who said: "Golf has been clean forever, probably because we've proven there's nothing out there we can take to enhance our performance. So there's no point looking. Golf has a very good reputation and, fortunately, nothing in the wings is going to dent it."
He famously added: "If you cheat with a pencil, you're gone for life. There's no soft stuff, where you go to six weeks of rehab to learn how to put in a '4' instead of a '3.'"
Tell us on the forum if you believe anyone will be found cheating at golf through drugs. Should smoking cigarettes or cigars, for example, be banned if it calms your nerves?