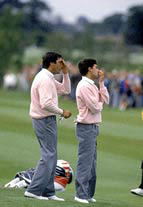 Seve/Olly – greatest pairing




How great is foursomes golf! Some consider it only half a round but after the fun I had yesterday it's probably twice the game that singles matchplay or medal is.

We rarely get the opportunity to test our skill at this most ancient form of golf but I can see the attraction of it to traditional places like Brancaster, Worplesdon and Sunningdale - great strongholds of the alternate shot game.

For the uninitiated, foursomes is played by two players, acting as a team and hitting alternate shots. If player A tees off the first hole, then B takes the next shot and the two take it in strict rotation until the ball is holed out.

At the second tee, Player B hits from the tee and A takes the next shot – and so on.

Potentially there's a great deal of opportunity for apology, as you top your drive behind a tree for your partner to play out left handed, leave an approach in the bunker for him or her to escape, or miss a simple 18-inch putt, demanding your sole mate to retrieve their putter from their bag to complete the hole.

But the art of foursomes is agreeing on the first tee never to say sorry – after all, who hits a bad shot on purpose?

My partner – six-handicapper Ian – and I, endured a few sticky moments and stifled a few 'sorry's' but we found the alternate shot format had the effect of cementing a mutual respect rather than ruining a friendship especially when WE achieved a birdie two, hopefully worth much gold in the sweep.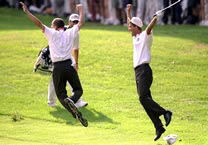 Time to celebrate
His sweetly struck 6-iron over water to 25 feet which, I converted, just about made our day (with a high five thrown in for good measure) and made up for three double bogeys in a round of 81 strokes.
The foursomes format, which demands accuracy, patience, good course management and solid short games from both team members, also throws up a few vagaries in the Rules.
Foursomes is a whole new ball game – as far as the makers of Rule 29 are concerned. Here's a few examples:
*If a player plays out of turn, whether off the tee or during the completion of a hole, it's loss of hole in matchplay, two stroke penalty in strokeplay.
*In a mixed foursome in which men play from the back tees and women from the forward tees, if a man hits a tee shot out of bounds his partner must play the next stroke from the back tee.
*When player A drives and there is doubt whether the ball is out of bounds, player B must play the provisional ball from the same tee.
*In foursomes, penalty strokes do not affect the order of play, so if A hits a wrong ball, he/she must play the next shot.
*If a ball is required to be dropped for free relief or a penalty, the player required to make the next shot must make the drop.
*A player must not purposely miss a shot to allow a better partner to, for example, play a lob shot over water or a hazard. If a player has no intention of making a stroke it will remain his/her turn to play.
Though we rarely get the opportunity to play foursomes, a group of us are now pushing for further similar competition, especially during the winter months, when it speeds up the pace of play considerably.
What do you think of foursomes? Tell us your views – and your experiences on the forum.