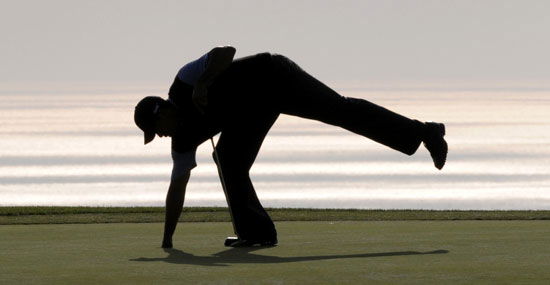 Tiger Woods - not THE best according to legendary golf writer Dan Jenkins
It's a question that many will be asking when the current World No.1 finally hangs up his spikes - Hogan, Nicklaus or Tiger - who was the best? Few will be able to answer with more authority than the legendary golf writer Dan Jenkins (pictured, above right), who attends his 200th major at the US Open at the Bethpage Black course in New York, next month.
Jenkins, writes for the Forth Worth Press, Dallas Times-Herald, Sports Illustrated and Golf Digest and told the New York Times this week and was asked if Tiger Woods is the best player he's ever seen.
"No. He's the best putter — until this year. He's made more big putts than anybody. The best player was Hogan, all through the bag. Even Jack Nicklaus agrees with that. Nicklaus is the greatest winner I've ever seen. Hogan's the best player.

"Hogan was the best, hitting all the shots he had to hit. In the old days before courses got so well manicured and before some of the rules changes, you had to be more inventive and creative. Now they just hit the ball a long way, make a putt and go to the next tee. It's a different game. It's a ball-in-the-air game.

How else was the game then different to now, he was asked:

"People forget one thing and I think it's huge. When Hogan won his five Opens, counting the war-time one, he couldn't clean his ball on the green. You couldn't do that [lift and clean] until 1971. You had to putt with a muddy ball. There was no double cut around the green at the US Open. There was just the putting surface and garbage — asparagus or something. Hogan played under tremendously different conditions and still won more tournaments and more majors in a short period of time than anyone so far."

So where would Jenkins, in his personal, top golfers?

"I put him in the top five somewhere. He's going to have to beat Jack Nicklaus first (in majors won). Whether he does that or not is still a question. I frankly think his knee still bothers him. And knees can go again. Plus he's got two kids now and all the money he needs. What's in his heart? How long is he going to stay bloodthirsty? We don't know."

Ask what his favourite quote was, Jenkins replied unequivocally.

"It was at the 1960 U.S. Open, when Hogan, Palmer and Nicklaus all came together. The current, the past and the future. I knew it was Ben's last hurrah. I knew Jack was coming because he was incredibly talented. I saw Hogan in the locker room after it was over and he said 'Don't feel sorry for me. I was paired with a kid today who could have won this thing by 10 shots if he knew what he was doing.' Nicklaus had three-putted three of the last five greens as an amateur and lost out to Palmer."

Look out for a new book 'Jenkins at the Majors: 60 years of the world's best golf writing, from Hogan to Tiger.'