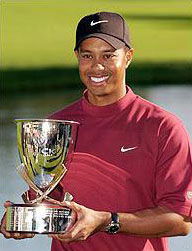 Tiger in turtleneck
Tiger Woods has set a hot fashion trend by bringing back the Mock turtleneck short-sleeved golf shirt.
The World No.1 is reputed to get £30,000 a day to wear Nike clothing, cap and shoes in front of a multi-million television audience each time he plays. But if you want to look like Tiger, you'd better call ahead first and check with the course.
At some places in the UK the turtleneck is definitely off-limits; at others it's perfectly acceptable.
Indeed, one place where the turtleneck is out of bounds is my home course, Greetham Valley Golf Club in Rutland.
"Definitely not," teaching pro Neil Evans told me, "It's not proper golf attire, it's just like a T-shirt. We demand golfers wear polo shirts with collars."
"So if I turned up in the one I've just been sent by Ping Collection it wouldn't be allowed?" I asked.
"Well you'd be told you needed to be properly dressed next time," Neil warned.
It was a similar story at Woodhall Spa, headquarters of the English Golf Union and one of the busiest private golf clubs in the country.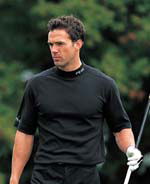 Tolson turtleneck
Shop manager Simon Gilbert told me: "No turtlenecks are allowed on the courses. We allow polo (roll)-necks and collared shirts but if golfers turned up with a short-sleeved turtle neck they would be asked to change into a more appropriate shirt."
At Sunningdale, one of the poshest clubs in the country, shirts, shorts and socks are currently under review.
"You could probably wear one in the dining room," said a spokesperson. "We allow them with a jacket if you haven't got a shirt and tie, but I've never seen them on the course, so can't really comment.
"In any case,it will probably come up at a house meeting next week when whether to allow shorts without long socks is also being discussed."
At nearby Silvermere one of the busiest pay and play course in the UK, they can't get enough of turtlenecks, originally made famous by Tony Jacklin when he won the Open in 1969 and the US Open in 1970 wearing mauve and black versions respectively.
"Of course you can wear them here," said the shop manager without hesitation. "We only wish we could get more of them. We sold out the original batch of 20 (£39.99) within a couple of days and we've got people on a waiting list anticipating the next batch soon."
At Gainsborough Golf Club, the pro shop has versions of the latest Tolson range for men and women from the Ping Collection in a variety of colours, priced at £24.95. Not surprising considering the club and the clothing brand is owned by the giant Karsten operation.
Tiger and Nike got special dispensation from Augusta National to wear his dark obsidian short-sleeved turtleneck on the Saturday of the US Masters now dozens of Nike and Ping players are finding the shirts fully accepted on both the US and European Tours.
How long the dissenting clubs can hold out is merely a matter of time.
What do you think of the short-sleeved turtleneck? Is it proper golf attire or does it look too much like a tacky tee-shirt? And also tell us on the forum if your local course allows them.