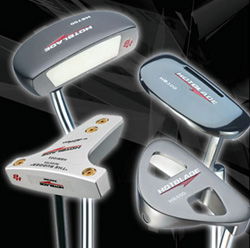 Selection of Tad Moore-designed Hotblade putters
 Hotblade Golf, whose putter designer Tad Moore (pictured above right) has been crafting putters for over 50 years, has announced record sales for its putters and specialist wedges.
Six time major winner Nick Faldo was among the players who used Hotblade's original creations and now Moore, best remembered for his line of Maxfli putters in the 1980s and 1990s, is making flat sticks which are helping to boost Hotblade sales by over 20 per-cent.
The Hotblade Tad Moore Classic Series - HB001, HB002 and HB003 - feature precision milled aluminium faces with a heel and toe weighted head design and red inserts to enhance feel and control.
The Hotblade Tour line includes face technology to reduce skidding while the flagship T-shaped Hotblade Rudder model, has been made for easier alignment and with horizontal grooves to improve roll. Prices range from £69.99 to £99 with golfers receiving access to the exclusive in-store Hotblade putter fitting system.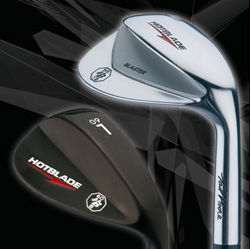 Hotblade wedge and Blaster




Hotblade also features black and chrome Hotblade wedges (£69.99) with a special grind on the sole and a specialist bunker wedge, the 56 and 60-degree Hotblade Blaster (£59.99) which, the company claims, takes the fear out of any kind of shots from sand with its unique head design concentrating weight in the sole.

The Hotblade brand is now also competing in the golf ball category and its Double Ti Distance ball, available in 15-ball (white or yellow) packs for £19.99.

What's in your bag?

For a chance to win one of the latest Golf Buddy hand-held GPS measuring devices worth over £300, tell us about the clubs in your bag. Submit a comprehensive review - from putters to drivers, balls to sets of irons, shoes to powered trolleys - and give it a rating.

At the end of March, we'll assess the entries and award a Golf Buddy device to a worthy winner.

To submit a review CLICK HERE