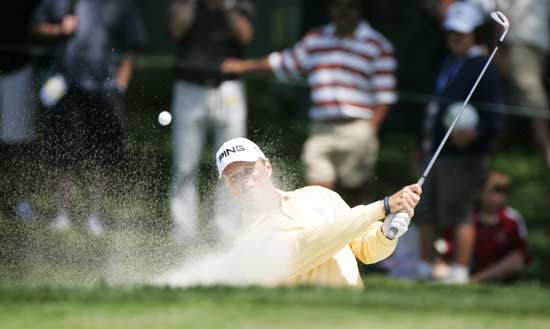 Bunkered: It was tough for Wolstenholme at the US Open
Just how tough is it for an amateur to play in the US Open, traditionally the most brutal test of golf? Well, the statistics in rounds of 83 and 82 for 47-year-old two-time Amateur champion Gary Wolstenholme tell the tale.
His average driving distance was 250 yards, compared to the rest of the 156-player field of 289 yards. But Wolstenholme's strength has never been his length but his accuracy. So he was ahead of most of the other competitors in hitting the traditionally narrow fairways of US Opens - 68 per-cent (19 out of 28) compared to the overall average of 58 per-cent.
But his lack of length meant he spent 10 hours playing fairway metals and long irons into the small swirling greens of the Torrey Pines South course.
In the end it just wore him down. His meagre statistic of 22 per-cent of greens hit in regulation was less than half of the other players' average (53 per-cent).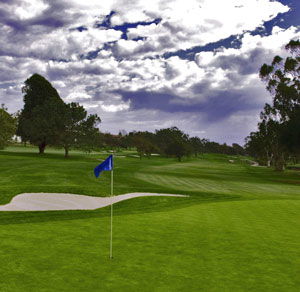 The brutal 15th hole at Torrey Pines, which cost Wolstenholme a double bogey on day two




For Wolstenholme - a veteran of multiple amateur titles and Walker Cups, it reduced him to getting hot under the collar and playing like a 10-handicapper. It was more like Torrid Pines!

An example of the mountain that faced him came at the 478-yard, par-4 15th, where he drove it straight but his ball was still failed to reach the short stuff, plopping down seven yards shy of the first cut of fairway. His playing partners American Hunter Mahan and South African Richard Sterne were 70 yards ahead of him.

Wolstenholme then had to bash a fairway wood into position to play a short iron into the green. The relentless pressure on his short game to make par, hole after hole, finally forced a three-putt for a double bogey.

After his round and total of 23 over par, he admitted he felt beaten up.

"I'm used to getting about 30 yards of run on the ball but here it was about five yards. And it killed me. I really can't remember the last time I shot 80 twice," he said. "I was hitting the ball well on the range but out on the course, I have absolutely no idea where my swing went."

Sound familiar? Wolstenholme speaks for amateur golfers the world over.

It was meant to be a trip of a lifetime but it turned into a bitter experience for Wolstenholme, who slammed the USGA for abandoning him, despite earning his first reserve spot against the cream of the European Tour who had tried to qualify at Walton Heath, the previous week.

"They said, 'Get over here, Gary, and we'll look after you.' But after two days, they didn't want to know me. This has cost me a lot of money. I'm sure the R&A would have been more helpful [at The Open]. I even had to eat the free sandwiches in the locker room in the evenings to save money."

But he praised the English Golf Union for donating £600 towards his airfare. Nevertheless, Wolstenholme had to pay for taxis to and from the course each day until he was officially in the tournament on Wednesday when he was allowed a courtesy car. He also complained that the USGA was unfair in not to letting him have a practice round until Wednesday.

"Was it a good decision to come?" he asked himself. "It's a toss up. It has been a great experience but, on reflection, I think I would have been better off staying at home. Would I do it all over again? Probably not."

At least he didn't finished dead last. That dubious honour fell to 43-year-old Michael (Unhappy) Gilmore from Locust Valley, New York after rounds of 86 and 81.

Scant consolation for one of Britain's finest sporting ambassadors - awarded an MBE for his services to the game, who's just got an ugly, close-up of how cruel it can be out here for the world's greatest golfers.