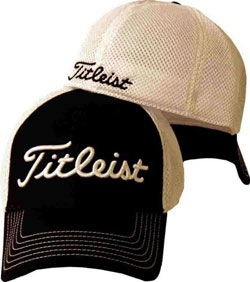 Titleist caps, towels and headcovers were counterfeited
Twice in a month, the St-Ives-based Acushnet Company, which comprises the Titleist, FootJoy and Cobra brands, has played a key role in shutting down an online seller of counterfeit Titleist products.
Gareth Lee from Portsmouth was sentenced to 30 months in prison by Portsmouth Crown Court for his role in the sale of counterfeit golf products and ordered to pay £105,000. If he fails to repay the money within six months, the court will add three years to his sentence.
"We are very satisfied with the outcome of this case," said Clive Harrison, brand protection officer, for Acushnet Europe. "The sentence handed to Mr. Lee should serve as a deterrent to anyone tempted to sell counterfeit products. We would like to extend our thanks to Hampshire Trading Standards offic for bringing it to a successful conclusion."
Acushnet discovered fake towels, headcovers and headwear bearing counterfeit Titleist trademarks on the eBay online auction site and reported Lee to Hampshire Trading Standards in Portsmouth, which led to his arrest and ultimate conviction.
"We're pleased to co-operate with governmental authorities to protect our consumers and account partners," said Joe Nauman, executive vice president for corporate and legal affairs for Acushnet. "This case demonstrates the long-term commitment Acushnet has made to protect its brand online and assure its customers of the quality and integrity of its products."
In another case Gary Bellchambers, pleaded guilty to conspiracy and counterfeiting in a London court, and is awaiting sentencing. Two of Bellchambers' co-conspirators, Keith Thomas and Chris Moughton, also admitted guilt, while six other defendants are currently on trial in Snaresbrook Crown Court.
According to an eBay official, the Bellchambers case is one of the largest counterfeit product conspiracies discovered on their website, with more than a million pounds of merchandise believed to be involved.
Meanwhile JamGolf Marketplace, which represents 180 PGA professionals in the UK is spearheading a campaign to assure online shoppers that they can still buy genuine golf clubs and accessories on the web at low prices. 


Andrew Fothergill, JamGolf founder, commented: "This fraud is a blow to all legitimate online sellers who work hard to deliver authentic products at low prices. Credit should also be given to eBay for taking action as soon as the scam was uncovered, but much work now needs to be done to rebuild confidence of the buying public.


"To restored confidence, we must be transparent in saying how lower prices are achieved. For example, the JamGolf Marketplace is made up of PGA Professionals selling genuine overstock and clearance merchandise throughout Europe alongside the latest models. Most items are new or ex-display; they just cost less and we shouldn't hide these facts."


He adds that while there is inevitably negative publicity for online sellers, potential buyers should not be deterred from online bargains but should seek out expert sellers with a reputation to protect.