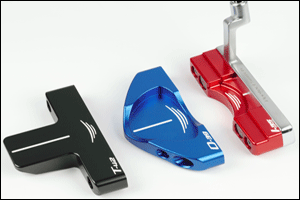 The new Perfect Switch putter by Honma
Honma's Perfect Switch putter has already earned plenty of plaudits and this week scooped a Product Award at the Golf Europe show in Munich.
Owning the Perfect Switch is like having three putters, because the three heads that come with the kit can be interchanged according to your personal preference or the conditions you play on. The different heads simply screw onto the head base, and changing the heads takes literally a matter of seconds. It's a brilliant idea and one that is sure to catch on. Buyers of the kit can also choose their preferred shaft, with a plumb neck or double-bend both on offer.
The first head, the I-35 is a classic, Anser-style design with a heel-toe weighting and a shallow centre of gravity. It's more manoeuvrable, more sensitive and is perfect for fast or heavily undulating greens where a high degree of control is a must. The striking red colour with its bright white alignment aid looks absolutely stunning.
The D-39 is a bright blue mallet head with a much deeper Centre of Gravity and plenty of weight on the extremities of the putter face. This really helps with stability and consistency on off-centre hits, making those duffed putts go that little bit better. It's also very easy to line up with a clean alignment line on the rear portion.
The third head from the Perfect Switch kit is the T-42. As the name suggests it's a T-shaped head that sits beautifully at address and really helps you to visualise the line of the putt. The CG is the deepest of the three head (16mm) while the Moment of Inertia (resistance to twisting) is also the highest, registering 4,200g-cm2. That's a very high figure and gives great stability and forgiveness. The T-42 seems to be well suited to slower, larger greens where long putts are commonplace.
This is a brilliant product that really does offer something a little different. The heads are milled from CNC processed stainless steel and laser grooved for precision, and all three look absolutely stunning with vibrant red, blue and black finishes. If you play different types of courses and want to be able to adapt your putter to suit the conditions, this putter would be, as the name says, the perfect switch. Pricing and availability are still to be confirmed but a good place to start is UK distributor Premium Golf. www.premiumgolf.co.uk