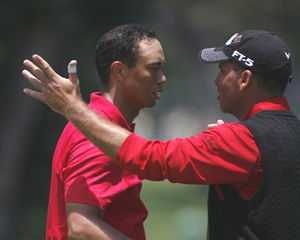 Rocco Mediate congratulates Tiger Woods after the 2008 US Open
The player who wins this week's US Open will need to be 'mentally and psychologically at the peak of their game,' according to two leading sports psychologists who understand that winning on courses like Bethpage State Park 'requires a whole lot more than just being in good form'.
The USGA is renowned for making US Open as tough a layout as they come and with all the rain that has greeted this year's event, the Bethpage Black course is more treacherous than most.
In a sport where a good shot can often be the victim of an unlucky break – and end up in heavy rough or at the wrong side of a green – then the player who handles this type of bad experience the best, will be the one who emerges with the trophy in their hands.
In short, treating triumph and disaster equally will be the key to winning - and it's a philosophy that holds good for the club golfer, too.
Dr Joe Parent – author of 'Zen Golf' and 'Golf: The Art of the Mental Game' - told the New York Post: "You need to pre-accept the full range of results. You know you're going to this very penalising golf course where you're not going to hit every shot perfectly and some are going to end up in not-so-good places.
"You must pre-accept the results so that when you encounter that, it's not that big a deal."
He believes World No 1 and defending champion Tiger Woods handles setback best and gets rid of any frustrations immediately after hitting a bad shot. He does not let it affect him as the round progresses and it's a lesson we can all learn.
"Tiger gives himself a kick in the pants and then lets it go after he's walked about 10 paces toward his next shot."
Dr Tom Ferraro, a sports psychologist believes every pro - and every amateur - should have a tried and trusted pre-shot routine.
"A pre-shot routine manages anxiety. A post-shot routine manages anger.," he says. "The post-shot routine involves conversation relating to forgiveness and about being realistic that every shot can't be perfect and you must forgive yourself for making a mistake."
Rocco Mediate, last year's runner-up at the US Open agrees: "There's going to be weird things happen. Bad bounces, lip outs - all that is going to happen because everything is so much more difficult this week. The guy who doesn't let it kill him is the one who is still standing at the end of the week."
Tell us on the forum about your anger management. How do you deal with the inevitable bad breaks on the golf course? Maybe you don't involve yourself in tantrums and club-throwing. Here's a chance to share your experiences....