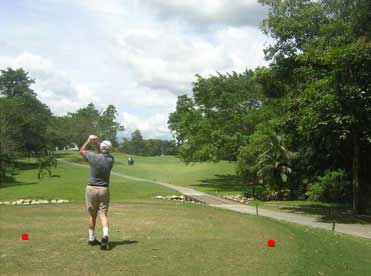 Guys off the reds. Why not?
For 99.9 per-cent of golfers, playing off the back tees is a total waste of time. Most wouldn't even reach the fairway, let alone hit the green in regulation to have a stab at a birdie putt.
The US Open, held at Torrey Pines in June, will be played on a course with a par of 71 and measured at around 7,600 yards. The fairways will be narrow - about 20-25 yards wide - the rough will be deep (graduated to five inches in places) and the greens more slippery than an oiled up bowling alley.
Recent research by the USGA suggests that the slightly-better-than-average golfer (who shoots in the 90s) hits his tee shot just 192 yards.
However, 41 per-cent of the men in the survey of 18,000 golfers, estimated they hit their drives 250-plus yards! In reality, says the USGA, maybe only one in 50 golfers routinely hits drives that far. Senior men are lucky to coax even the most durable ball 170 to 180 yards off the tee and a typical woman golfer's drive reaches 135 yards.
"For most players, the back tees on any course should be just a rumour," says one golf architect who tends to hide the longest tees on courses he designs so that average golfers won't be tempted.
The result of all this macho-thinking by average club golfers is that courses are becoming less enjoyable to play and, inevitably, rounds are taking longer to complete.
It might be sacrilege to say it, but if we want to make the game more fun and not so likely to be held up by the group in front, why don't most of us play off the red tees?
Further research has discovered that forward tees for beginners, women and some seniors should be set around 4,100 yards, with courses able to provide tees between 5,700 to 6,300 yards for those with handicaps to prove they can handle them.
One idea is to charge more to play off the back tees (6,700 to 7,200 yards) where long-hitting youngsters and single digit handicappers can show off their driving prowess. Incidentally scratch golfers make up less than one per-cent of golfers.
Over the last 20 years, designers have given more thought to forward tees. The problem is getting golfers to use them, especially macho-oriented men who believe they haven't played a proper round of golf when they can't fire off the tips even when they can't come close to reaching many par-4 greens in two shots.
By requiring an extra full shot on 14 or more holes, they can add 30 to 45 minutes to the length of a round and consequently slow down everyone behind them.
One experiment at Province Lake in the US set out to understand why more people weren't playing the course. And in a radical system of repositioning tees ensured that players of all abilities would be hitting their approach shots into greens with similar clubs, not from similar distances. So while the seniors and women were hitting 8-irons into the green like the scratch golfers, they were doing it from 90-100 yards instead of 160 yards.

"You still have to hit the shot, but this way everyone has the same opportunity to reach the green, and everyone has fun," said the course owner, who doubled pay-and-play rounds per year and improved playing time by upto 30 minutes.

So next time you have a social round, try playing off the reds as an experiment. See what it's like having shorter irons into the greens and more makeable birdie putts. You might just have more fun and take less time over it.

Tell us on the forum: Would you ever consider playing off the red tees? Isn't it worth a try to speed up play or have more chances of hitting the green in regulation. Or are you too macho to consider it? Discuss...