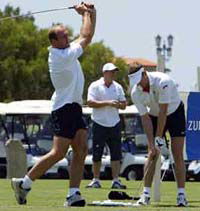 Dallaglio - teed up for victory
Golf courses around the UK - well, least in England - will be deserted on Saturday morning as the country's heroes take on Australia in the Rugby World Cup final in Sydney. It's a 9am kick-off and millions who normally step out on to the first tee for their regular matches will instead be glued to their TV sets.
But if you're giving up your game this once take solace from the fact that most of the players on view regard golf as their No.1 hobby, when they're not paid to play rugby.
Indeed most are pretty good at it.
As you would expect England's goal-kicking machine, Jonny Wilkinson, plays to a single-figure handicap in the Newcastle area. As macho, chauvinist golfers will understand it's a case of having to. His girlfriend, tv actress Diana Stewart also plays to single-figures and represented her county when at university.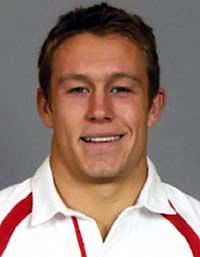 Jonny Wilkinson
Flanker Lawrence Dallaglio plays down his golfing ability but once told me: "Golf can be relaxing, especially to play on great courses in exotic locations. We never miss the chance when on tour.
"But I'm also a very competitive person and golf gives me that competitive edge like no other sport apart from rugby."
Matt Dawson, who has won more caps at scrum half than any other England player, also works hard at his golf game to maintain his 13 handicap. As does team manager Clive Woodward, who, as you would expect, relies heavily on his experience and course management to keep his handicap low.
England will be out to put Australia under pressure, driving forward and forcing their opponents to concede penalties - all terms we recognise in a golfing sense. But they will also be playing to the rules - and who better to ensure the regulations are adhered to than Andre Watson, the 45-year-old South African, who will referee the final.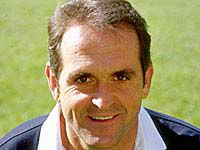 Ref Watson - playing to the Rules
The former provincial player from Stellenbosch has a golf handicap of three and could probably put every player on the park in the shade when it comes to golf. Instant respect.
It will be a fascinating tussle, which I for one will not mind giving up my Saturday morning golf to watch from the edge of my armchair.
I hope and expect England to sneak it with penalties and pressure. As we often say, the scorecard - or in this case the scoreboard - doesn't paint pictures. Winning is what matters.