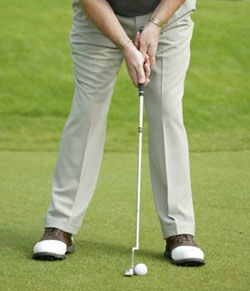 Shoes featuring spirit levels in the toe caps can help you hole more putts
A new golf shoe is set to raise the spirits of golfers who find it tough to read the slopes on greens.
Innovators in Northampton, the traditional centre of shoe-making in the UK, have developed a shoe which identifies the subtle slopes and borrows on greens enabling the player to hole more putts.
Each shoe has a built in spirit level in the toe. The left shoe's device points out any left to right slope and the right shoe will have the green air bubble favouring down hill or up hill.
For left-handed golfers the devices are reversed.
All the golfer has to do is compare the co-ordinates, compute the information mentally and every putt suddenly becomes make-able.
The creators, who are still seeking a patent for their idea have christened the shoes GreenReaders and are due to reveal them today at Collingtree Park in a competition to commemorate the British Masters which used to be staged at the Johnnie Miller-designed course close to the M1 motorway.
Said a company spokesman: "One of our designers - a keen golfer excited at the build up to last year's US Masters - was trying to replicate the speed of putts at Augusta on the laminate flooring he had put down in his lounge. He noticed the correlation between the subtle slopes and the spirit level he'd been using.
"He thought it would be a cool idea to fit miniature spirit levels into golf shoe toe caps so a golfer could check the slope he was standing on while addressing a putt."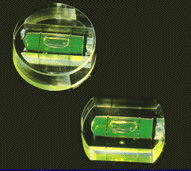 Tiny spirit levels like these
be fixed in toe caps
The next move is get approval for the revolutionary shoes from the Rules of Golf legislators at the R&A and USGA.
A source at St Andrews told Golfmagic.com: " I can confirm we have received samples and these are currently being investigated by the implements committee. It's a novel idea in the light of many current shoe designs claiming to put extra yards on drives and others claiming more stability at impact.
"Shoes, however, that help golfers hole more putts, will have to be seriously considered by our legal boffins and may yet contravene the Rules for elite players, who play on faster, more undulating greens."
Recommended retail price for the shoes is expected to be £104.07.