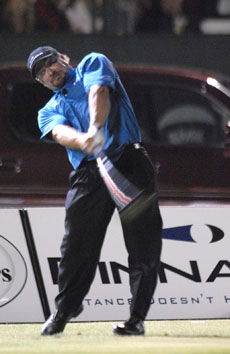 Jason Zuback crushes one 368 yards
With a strike of 368 yards, Canadian Jason Zuback, has won the RE/MAX World Long Drive Championship for a record fifth time. Under dramatic floodlights at The Palms Golf Club, Nevada, Zuback smote his 47.5 inch King Cobra driver to end a six year lean spell at the event.
Four times the champion between 1996 and 1999, Zuback beat fellow Cobra long driver Eric Lastowka by 13 yards and also posted the longest drive of the night - 386 yards in cool, calm conditions in the semi-finals. Ball speed off the clubface was measured at 206 mph, which helped earn him the $125,000 first prize.
"People said Jason Zuback was done, and I came back and proved them wrong," Zuback said proudly and defiantly, as if in the wrestling ring.
Cobra drivers have dominated the major long-drive events in recent years and this was no exception with Gerry James, the senior winner also using the PM 702 Graphite Design shaft that's also available to regular golfers. It is a tip-stiff shaft that is very strong overall.
"Both Gerry and I used the X shaft," Zuback said. "It's like a 3X stiff, let me tell you."
And just to prove that senior golfers still have life in them, 57-year-old Doug Miller of Fort Wayne, Indiana, won the 'super seniors' title with a drive of 327 yards using a Bang driver head with a Stolz shaft.
Phillis Meti (19) from Auckland, New Zealand, won the women's division also with a 327-yard drive in the final - 45 yards longer than opponent Jackelyn Diekemper. The student used an SMT driver head with an Accuflex shaft. Cobra driver players Pam Garrity and Lee Brandon captured 3rd and 4th respectively.