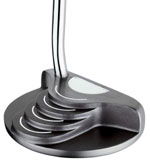 Grey top like stacked coins
Price: £59
The two-ball style of putter as perfected by Odyssey, TaylorMade Rossa and Bettinardi has never quite done it for me, though I know loads of my pals have followed up the clubs' popularity on Tour by adding one to the bag.
They're an acquired taste that didn't quite fit my tempo, though I know dozens who have adapted or, having paid a king's ransom, claim they have!
So it was with some trepidation and indifference that I put Benross's updated Ripple SE II to the test – in competition and straight from the box.
I love my Ping Specify and it would take something special to wrench it from my grip but I have to say the Ripple is the nearest I've come to finding something to 'sit on the subs bench' just in case.
First thing that attracted was, in fact, the Golf Pride Whisper grip – it has a tacky feel but greets you warmly and firmly like an old friend.'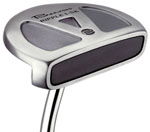 Back-weighting encourages pendulum swing
I don't normally like a lot going on visually in a clubhead at address but the look of four stacked and stepped discs behind the semi-circular insert, had an appeal that made the pendulum swing feel natural. A bonus was that there's no glare from the new gunmetal colour.
And the feel from the black, softer PU insert face interpreted into much-improved pace control and top spin roll on the greens. I might have overshot the hole on occasions from 20 feet but felt confident with the three to five-footers coming back.
In the midweek medal where I shot my handicap (10) for a level par nett 72, I had six single putts and only one three-putt.
Verdict

At a penny under 60 quid I'd recommend the SE Ripple II to anyone considering the style of a two-ball putter but without the cash to back up their desire for the real McCoy.
Golfmagic rating: 8.5/10