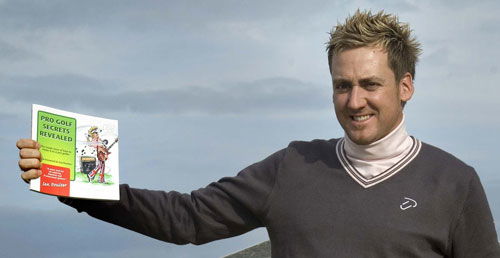 Ian Poulter wrote the foreward for Pro Secrets of Golf
It's perhaps appropriate that in the week that sees 156 players tee up for one of the most gruelling tournaments in golf - the European tour Final Qualifying School - a new book should be published exploding a few myths about the glamorous side of golf.
'Pro Golf Secrets Revealed - the inside story of how to make it as a pro golfer' scrapes off some of the gloss surrounding a tournament player's life and introduces a bundle of home truths for those considering stepping on to the first rung of the Tour ladder.
Stephen Govenlock has been around golf and golfers for nearly 40 years and once tried - and failed - to win a place in the 1984 Open Championship (won by Seve Ballesteros at St Andrews). Since then he has been managing players who have won a total of 26 pro events so knows his stuff when it comes to the agony and ecstasy of trying to make a living hitting fairways and greens and holing putts.
Rather than take a serious, no holds barred approach to the fearsome prospects of life on Tour, which talented potential stars may declare too daunting, Stephen has chosen to make his approach light-hearted, using a fictitious mentor (appropriately named Bob) and cartoons briliantly crafted by illustrator Pete Smith.
He also approached Ian Poulter, the archetypal 'local boy makes good' to contribute a foreward to the book. Poulter, now a multi-millionaire Ryder Cup player with a distinctive worldwide image, knows what it's like to have a dream and to experience the pitfalls of the pro circuit before making a breakthrough.
Poulter started as an assistant at Leighton Buzzard Golf Club giving £10 lessons and serving 7.30am Mars bars to members before making it through qualifying school in 1999 at the fourth attempt to secure his Tour card and win the Italian Open the following year.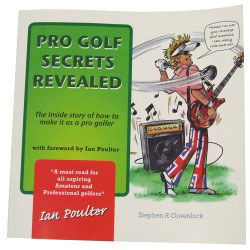 Chance to win three signed copies by Ian Poulter




Says Govenlock, through his mentor in the book: "Those that make it are those that tend to plan through it - not just where and when they are going to play but how much it will cost and when their money will run out if they don't make enough cuts.

"Aspiring players should be wary of kidding themselves that they can really play when consistently shooting low scores at their home course. Scoring well on courses you could play blindfold doesn't mean you're good enough."

Adds Poulter: "Stephen's book offers a fun insight into all the issues, which can, and do influence the ability of a promising young golfer to fulfil their potential. Whether you are an aspiring amateur golfer, a young pro starting out or just an enthusiast, this book will be of great value to many and an eye-opener to others."

*Pro Secrets of Golf is published by Business of Being Publishing Company Ltd in Edinburgh and is available from their website and leading book stores, priced £11.99.

THREE SIGNED COPIES MUST BE WON

Ian Poulter has signed three copies of 'Pro Golf Secrets Revealed' and for your chance to win one we're asking you to tell us what kind of image you would project for yourself if you got on Tour to attract sponsors, publicity and the chance to make a decent living. Would you need to be a snappy dresser or a rent-a-quote, a low-profile hard worker, or a big hitter who prefers clubs and clubbing? Also INVENT YOURSELF A NAME that reflects your image. Entries close, December 11.

Click here to enter.