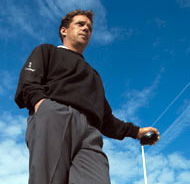 Glenbrae sweater
Price: £49.95
Look out for new technology in your golf sweaters this Spring with the launch of Spirol seamless knitwear from Huddersfield-based Glenbrae. First stocks are due to be delivered on Monday (March 15)
The company has invested millions in computer controlled machines to revolutionise knitwear. It now takes less then five hours to produce a garment from raw wool fleece to the dispatch of the finished sweater – each containing 430 grams of wool, two miles of yarn and over 42,000 individual stitches.
Spirol is a sophisticated, high-tech yarn-spinning process, blending 100% Merino lambs wool with Spirol producing seamless one-piece knitwear, instead of stitching sleeves to separately-made front and back panels.
Key benefits, says Glenbrae, are better comfort and fit, a sweater that keeps and recovers its shape and is more durable.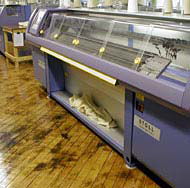 Computer technology
I've had a sample sweater since December, worn dozens of times, including a handful of washes and it has retained its shape, even in the cuffs and collar where regular sweaters tend to stretch. There's also a distinct lack of pilling, where tiny wool balls tend to gather on the surface of woollens.
Washing is key. My wife tends to ignore the labels on woollens and gently hand washes mine, spin dries them (not tumble dry) and completes the process on a padded coat hanger. Perhaps I'm spoiled but my golf sweaters seem to last for years!
Instead of concentrating on fashion, Glenbrae says it's focussing on performance. My first impressions are that the sweater is not quite as warm as some brands for winter wear, but that's probably through having been spoilt by the insulation of lined sweaters and windshirts.
However, I have no doubt it will come into its own during the Spring and cooler summer days.
Dozens of pro shops and retailers around the country are anxious to get their hands on the first sweaters from the production line and the traditional start of the UK season has been earmarked for availability.
Former French Open winner Malcolm Mackenzie, young pros Oliver Whiteley and Fraser Kelly will be endorsing the Glenbrae range.
For your nearest stockist visit www.glenbraegolf.com
Verdict

Even at 50 quid, the Glenbrae Spirol sweater, if looked after properly, will be a valued addition to the golf clothing range. It's understated with its limited range of colours, but will keep its shape longer.
Golfmagic rating: 8.5/10